Defensive howlers gifted Chelsea the win
Let's not beat about the bush; Chelsea were solid defensively and allowed little to get past them all afternoon, but the difference was that they capitalised on some very basic United errors to score when the visitors struggled to make the most of their possession. Ultimately, the hosts didn't lay siege on the United goal as much as they merely prodded it sporadically, firing in from two corners that were poorly defended and scoring with a deflection after Eto'o ghosted past Phil Jones like he wasn't even there. Make no mistake, they deserved their victory, but they weren't made to work amazingly hard for it. That, in itself, is another worry to heap onto the pile.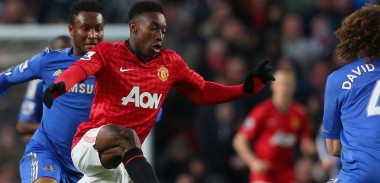 United started brightly at Stamford Bridge and looked lively. Adnan Januzaj cut through Branislav Ivanonvic's right flank on more than one occasion only to find a rigid backline blocking his path and few central targets to aim for. That's almost to be expected; Chelsea are nothing if not sturdy under Jose Mourinho, and without Rooney or Van Persie, United lack much of a presence up front. But such feeble reactions and decisions during defensive duties made that effort redundant. Of course, there's no guarantee that United would have scored had they kept things tight at the other end, such was the lack of space available in which to work an opportunity, but if both full-backs and Antonio Valencia are going to vacate their penalty area nonchalantly without paying proper attention to the action as they did for Eto'o's second, then the battle's almost lost before United can even muster a shot.
[hr]
Our Kingdom for Leadership
It's not exactly fair to lay the blame squarely and exclusively on United's captain for the startling lack of leadership and fragile team spirit on the pitch of late. Nemanja Vidic has suffered badly with injuries in the last three years, and spent plenty of time offering a steady, reliable and commanding presence beforehand. Now, with his powers admittedly waning and United's defence frequently disorganised, Vidic is struggling to provide the sort of attitude and impetus to spur his teammates into action. This wouldn't be such an issue if he wasn't one of a number of senior players who aren't making their presence felt when things go terribly wrong.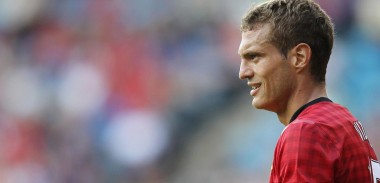 When United go behind of late, there are no rallying cries, there's little fight and some frankly appalling body language. The belief that Sir Alex Ferguson instilled in his side is non-existent, and even though United's top two players are sidelined, there's no sense from the players left behind that they're up to the challenge of turning United's season around.
If this was a new squad still getting to grips with itself, then it could verge on forgivable. But there's been just one new player at Carrington this season, and his impact on United's style has been minimal. There's simply no excusing the defeatist attitude sweeping its way through the team, and given the number of players that have been at the club for a substantial chunk of their career, it's by no means selfish to expect a little more bottle or fight when we find ourselves behind. Whether or not it's time to replace Vidic in more ways than one isn't a question for the immediate short term, with that pointless challenge on Eden Hazard hardly weakening the notion that his best days have been and gone, but the lack of unity and leadership in this side needs addressing now.
Almost makes you want that want-a-way Scouser to kick a few people up the backside.
Almost.
[hr]
Moyes cannot publicly concede the title
No one likes to hear their club referred to as a 'project'. Sure, a business as big as United has its eyes glancing at a number of things other than, y'know, actual football, but hearing the manager refer to his current job as such is somewhat disconcerting to the people who support the club at every turn. At least he had the sense to refuse to throw in the towel in regards to United's chances of retaining the league title; Manchester United managers simply don't do that until pure mathematical proof comes into play.
Of course, the title is gone. It'd take a monumental collapse from Chelsea, Arsenal and City in order for United to finish the season with a 21st league title, and even then, Moyes' side appear mentally ill-equipped to take advantage of any slips. But the public facade must be maintained. Even if his charges are motioning otherwise, this isn't a job or a team in which you simply admit defeat when the going gets tough. Moyes isn't fooling anyone at this point, and he'll know that fourth place offers his best chance of salvation this season, but whether gripped by the pressure of the job or unwilling to admit defeat, he cannot loosen the club's grip on the league trophy until it's forced away from them.
[hr]
Our fans are fantastic
This simple statement won't be any sort of surprise to any single fan who has sat in the away end at a United game, but this season, given how thoroughly dejected the team looks at times, the unwavering and almost joyous support emanating from it, no matter the score, is brilliant, quite frankly. Even at 4-0 down against Manchester City, the nadir of abject, the home fans were out-sung and even at three goals to the good, Stamford Bridge was subjected to the same ignominy. The link between the two may be tenuous, but having seen Chelsea's fans publicly call for Rafael Benitez's head last season, and seeing United in a far more perilous position now, it's heartening to hear the away section continue to back the club and the manager, even when things look bleak. Moyes and his players often sing their praises; maybe it's time they start to reward them with performances rather than words.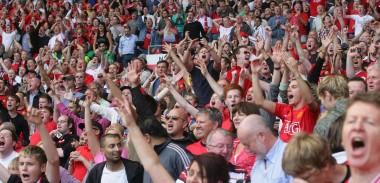 [hr]
Wednesday night is huge
Ever the optimist, the club's twitter account was quick to remind fans that United had failed to win the first leg of three previous league cup semi-finals before advancing to the final regardless after the 2-1 loss at Sunderland. Of course, the club wasn't suffering from a loss of confidence or limited ability as pronounced as it is now, but there is no universe that exists where failure to beat Sunderland in midweek is acceptable. Simply put, United have to reach the final and give themselves a chance of beating City. Rolling over and admitting defeat, even in the face of the clear superiority our neighbours currently have, simply isn't an option.
That's easier said than done, and Gus Poyet will clearly be mindful of the success that his side had when keeping things tight in the first leg with United still labouring up front. But Moyes and his players must seize this opportunity with both hands and do all they can to reach Wembley, because at present, this competition is all that United can realistically win this season. This club has the opportunity to turn a showpiece final into a derby; that's something you simply don't pass up.
Enjoy that? Give it a share!