And so the winning streak comes to a crashing halt and this season's rather poor records at home and against the Premier League's top sides worsen a little further in the process.
Happy New Year, everyone!
In a disconcerting repeat of last season's 2-3 defeat, Spurs gifted United the majority of possession and struck gold with lethal counter attacks whilst the home side struggled to break down a dogged defence. Here's what we made of it;
Conservative starting XI = Conservative start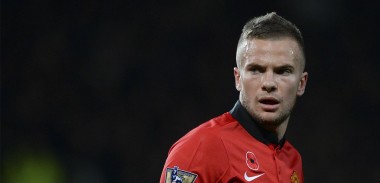 Starting with Michael Carrick and Tom Cleverley is the opposite of a statement of intent, unless the statement is "we're relying on our wingers." This central combination has struggled against well-marshalled defences, and time hasn't altered this fact. This left the onus on United's wingers almost throughout the game. To his credit, Antonio Valencia looked determined and frequently delivered good crosses in the first half, but with Wayne Rooney frequently dropping deep to help in the build-up and Welbeck lacking in physical presence, there were hardly any threats to aim for. Matt Dawson and Vlad Chiriches dealt with mostly everything that came their way without too much concern.
It's crushing to note that there was barely any menace or urgency to the home side's play until Christian Eriksen had doubled Spurs lead, and even though the initial response was swift, United gave themselves far too much to do in order to get a result. David Moyes had the common sense to switch things up with an hour gone and with chances at premium with the attacking substitutions gave his side a much more threatening look, but by that point, Spurs were defending doggedly. The reality is that a second goal never looked a certainty, partly due to Spurs' well-organised defence and partly due to a lack of threat.
Diving Young given no quarter
Whether or not Ashley Young managed to shoot at goal before Hugo Lloris clattered into him feels somewhat irrelevant. Looking at replays of that second half incident (a luxury Howard Webb and his assistant didn't have last night), it's clear that there was contact and as Young's shot didn't hit the back of the net, a penalty should have been awarded. God knows what was going through Webb's mind, but in those instances, when dealing with a player who has shown an incredible tendency to flop over at any given opportunity, it's perhaps no wonder that the benefit of the doubt went to Lloris in this instance. With Young having conned several referees in similar positions already this season, it's tough to argue with the karmic smackdown he received last night.
Januzaj providing too much spark
This isn't a suggestion for the 18-year-old to reign his talent in and let one of his teammates shine in his stead, which would appear to be a disastrous suggestion at this point. The issue is that as soon as Januzaj switched to the right-hand side with Antonio Valencia behind him, not only did he look far more dangerous but he ended up carrying United's greatest threat.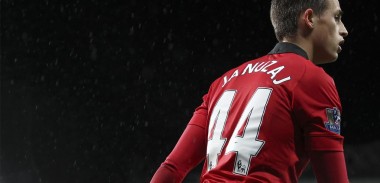 Admittedly, Moussa Dembele's man-marking job on Wayne Rooney took him out of the game, even when switched to central midfield, but no one was showing the same sort of incisive instinct or desire as Januzaj with United chasing the game. The pass to set Danny Welbeck away for United's only goal was superb, Javier Hernandez almost touched in his low cross after a dance into the penalty area and he terrorised Danny Rose repeatedly. Did he dive late on? Initially, it appeared so, but replays suggested that there was contact (either way, perhaps his biggest mistake was not playing a decent cross before he went over). Still, even with that ignominious moment, Januzaj, a player who hadn't made his first-team bow until this season, is showing up a few too many teammates of late.
If you're going to rest Rooney, rest him now
With two ties with Swansea and a League Cup quarter final against Sunderland on the horizon, this is perhaps the best time to allow Rooney's groin injury to heal. This is hardly a ringing endorsement of United's options in his absence, and the two wins against Stoke and Norwich recorded in his absence have hardly been comprehensive, but with a visit to Chelsea a little under three weeks away and the Champions League set to resume next month, this is as good a time as any for United's talisman to rest.
Of course, if this happens and United lose their next three games, you know who to blame.
Moyes can't be blind to United's deficiencies
It's all very well and good suggesting that David Moyes' side need reinforcements now, chiefly some form of threat in central midfield, before the harsh reality of recruiting top-class talent in January with many teams reluctant to part with their best assets mid-way through the season sets in. All through this term, we've seen Untied stutter in games against the league's top sides bar Arsenal, and it's a trend likely to continue if the same rigid reliance on plucky wingers and Rooney dropping deep to make up United's attacking threat isn't shaken up.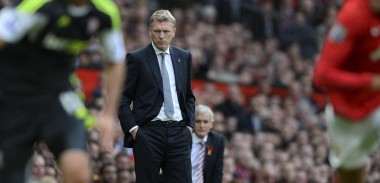 Simply put, United need to be considering any option that will strengthen their chances of attaining a top-four finish this season, because retaining the league title is a fallacy. At present, this crop of players doesn't appear to be up to that task, at least not under this manager, and Moyes is essentially shooting himself and the club in the foot if he refuses to upgrade. Whether or not he gets the opportunity, or the players he wishes, is a different story. Regardless, surely no one was fooled by his highly complimentary appraisal of his team's performance last night.
Enjoy that? Give it a share!