What started as a night worrying about United's festive period with the news that Wayne Rooney had become the next player to become acquainted with the treatment table ended with a League Cup semi-final spot booked in sodden conditions. If eyebrows were raised before kick-off at a team sheet shorn of several key players, then Lord knows where they ended up when panto-villain Ashley Young scored the opening goal on the hour mark with a stunning strike. Having avoided our dear neighbours in the semi-final draw, David Moyes must harbour genuine hopes of adding to the United trophy case at the first time of asking.
---
Ashley Young – The Man Who Cares
It's very easy to assume that all footballers, especially the ones who flop about like beached fish when someone deigns to come into contact with them, don't actually care about their paymasters beyond the rather helpful dispensation of cash. Ashley Young has dropped into that bracket for a lot of fans, and given his antics over the last few seasons, that's hardly a shock. But given the incredible knee-slide to the away end last night after he'd leathered the ball beyond Tomas Sorensen and the ferocity with which he celebrated, maybe that's a little unfair.
Of course, this doesn't make up for Young's embarrassing tendency to go bum-over-noggin, but his goal and performance (corners notwithstanding) were a decent reminder that he can actually play football, too. When he feels like it. Young's one of a number of players who've continued to struggle in the early stages of the post-SAF era, and there's no doubt that he's  failed to make the most of his opportunities this season, but performances like last night will give his manager food for thought. Considering the adulation he received from the away end having been ironically cheered from the Old Trafford pitch the previous week, he's done himself a few favours.
Or you could simply subscribe to a friend's eloquent line of thinking;
"He scored, but he's still rubbish."
---
United coped well with another big injury
Let's be honest, Rooney has been at the heart of almost everything good about this league season, and his absence last night, whilst offering another opportunity for more than one maligned squad member to shine, could easily have cost United the game if the starting XI hadn't set about their task with such determination. Stoke threatened, but only through deep crosses, most of which Jonny Evans and Chris Smalling coped with and the home side failed to create a telling chance all evening. At the other end, United suffered with their delivery but two quality finishes were enough to seal victory. It wasn't a sparkling performance, but given the personnel missing, they coped well.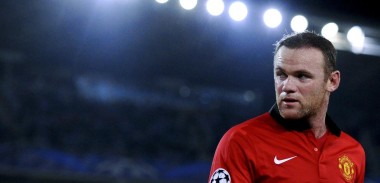 Defensively, a centre-back partnership featuring Evans and Smalling needs time to develop but given the frequent absence of Rio Ferdinand and Nemanja Vidic, it's one that Moyes will be encouraged to utilise more often as Phil Jones' strengths in central midfield as impossible to ignore. Considering the opponents and the conditions, they responded and met the aerial challenge that Stoke posed. The home side's approach was a lot more one-note than the plucky attacking performance at Old Trafford in October, but the duo coped well.
Offensively, little can be gleamed from last night's performance given the weather. Danny Welbeck, perhaps predictably could be found dropping deep in order to help in the build-up and even when he did his best target-man impression, the delivery was often wayward. As discussed, Young looked a degree sharper and more effective, with Anderson once again yanked off before the full-time whistle. The introduction of Javier Hernandez gave United some fresh impetus, and despite the Mexican's limitations, it might be worth exploring a formation with him as the plucky spearhead if Rooney remains absent at the weekend.
---
It's a good time to be in-form
Those defeats to Everton and Newcastle are hardly distant memories, but the reaction in the subsequent three games has been fairly solid. No goals conceded and three wins; whisper it, but runs are built on the back of this sort of consistent approach. It's even more important given the fact that there are still three league games to go in this calendar year, with West Ham this weekend, a trip to Hull on Boxing Day and the visit of Norwich rounding off the year. If Moyes has found a way to channel the mental strength that looked to be reserved for Sir Alex Ferguson, then these next few big hitter-less weeks should be a little easier.
---
United have been given a manageable route to Wembley
You'd wager that there were more than a few reds breathing a sigh of relief when United were paired with Sunderland in the next round (even if it does show how low our expectations have already fallen in the space of a few months), because beyond avoiding another potentially chastening visit to the Etihad, it's given David Moyes a chance to taste his first cup final. Sunderland were denied a decent result by a fine David De Gea performance in October, and knocked out a decent Chelsea side to get to the semis, but Moyes has to feel that a place in the final is attainable.
You'd certainly hope that he does, anyway. If not, then he's in the wrong job.
Enjoy that? Give it a share!