Van Persie shouldn't have had to play
Even if Robin Van Persie is one of the best strikers on the continent, it's unfair to expect him to have to sling the team on his back without having fully recovered from a troubling groin injury. He left Arsenal because he had clearly had enough of carrying a team that didn't have the mental strength to challenge for major honours. Now he's being thrust into battle whilst unfit and asked to lead a bunch of players desperately short of confidence. As talented as Van Persie is, it's not fair to expect him to shoulder that burden. Given how many times he dug us out of a hole last season, you'd really hope that the favour could be returned when he's in need of some support.
---
Jones' presence made United more solid, despite the result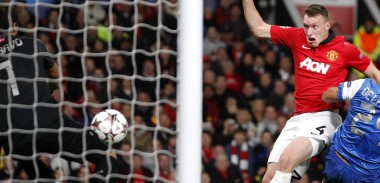 United gave the ball away far too cheaply in the first half against Everton and gave the visitors a number of opportunities to harm them on the counter.  Jones, who had offered such a good basis for attack against Leverkusen was missed, for sure. This time, his presence was hardly a difference-maker in terms of the scoreline, but in comparison with the midweek encounter, United looked much less susceptible to attack centrally, at least.
Newcastle were seemingly restricted to threats from out wide, save for the occasional foray through the middle with the goal coming after a speculative punt in the direction of United's diminutive-in-size left-back. Jones might have struggled on occasion, and the sheer power that he put into a 50-50 challenge with Cheick Tiote could easily have landed him on the treatment table, but United looked more commanding through the middle today, and whilst that might not earn Jones a pay rise, it deserves recognition.
---
Leaders wanted. Apply within
Wayne Rooney has been leading by performance-based example all season. Patrice Evra has shown more effort than men 6/7 years his junior. Robin Van Persie played a full 90 minutes even though he clearly hasn't recovered from a groin injury. Of those three, the former has asked to leave the club twice, the middle was almost replaced in the summer and the latter has been with the club for a little over a year. And these are the men offering perhaps the best example as to what's required from United's team. Yes, that's a little off.
So far, that hasn't been enough to shake United from this current stupor, so what's the answer? Purchase a midfield general with a bite bigger than his bark? Unearth the next Serbian battle-axe who looks like he may burst a blood vessel when organising his defence for every corner? God knows, but there are a sight too many passengers in this current United crop, and their lack of application is undermining those trying to improve United's lot.
---
David Moyes looks defeated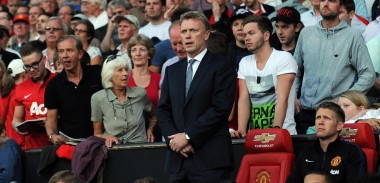 Perhaps it's the sight of Sir Alex Ferguson staring through the soul of every reporter when United's off days were questioned that makes his successor's attitude seem all the more galling, but from a fan's perspective, the sheer pessimism that permeates Moyes' post-match interviews is making for some incredibly bleak watching. He looks like a deer in the headlights, a man overwhelmed and one who doesn't look like he has answers to his current predicament. It's hardly an attitude that'll inspire his players, either.
In the short term, forget the transfer windows, forget the league position and forget about the league title; Moyes needs to figure out a way to inspire his troops. He spent ten years on Merseyside forging a solid side that was frequently tough to beat, and when things weren't going his way, he was on the touchline barking out orders with authority. Today, we saw a man squabbling with Hatem Ben Arfa for the ball in a match that felt long gone. Moyes doesn't have confidence in his own abilities at present, and that's translating onto the pitch.
Comparing him with his predecessor is unfair, but on these occasions, you'd see a fire in Ferguson's eyes during his post-match chat, like he was two minutes away from ripping the contents of his dressing room a new one for failing to get a result. Moyes might not be ready to bite his players' heads off, but somehow, he needs to light a fire underneath their backsides.
---
There's patience in the stands, but it won't last forever
Can you imagine the noise at Stamford Bridge if Chelsea had started a season this badly? We sat above their fans in an ivory tower with our long-term manager and watched as they discarded some top-drawer talent in pursuit of a quick trophy fix. Of course the fans get a little impatient when things go wrong during the game, name me a set of fans that wouldn't, but for now, Old Trafford hasn't descended into open rebellion and is instead a cauldron of nerves. That's hardly great in itself, but at least our fans aren't losing their heads.
Not that this makes us better than the Premier League's more impatient teams, but our fans appear to be switched on enough to see that United require some significant retooling. Of course, that patience isn't in infinite supply, and the manner of defeat to Newcastle left little room for positivity. Moyes clearly has some goodwill left with the United fans or he'd still be hearing a HD chorus of boos in his sleep, but it's imperative for him to keep them on side.
What did you think to the Newcastle United match? Comment in the section below.
Enjoy that? Give it a share!