David De Gea – 7
The Spaniard was as solid as he's been all season. Newcastle carried very little aerial threat, so today was much more a test of his concentration. Most significant save was to deny Debuchy after Evra was caught napping at the end of the first half, and couldn't be blamed for Cabaye's goal. To be honest, Big Dave can't be faulted for the back four's mistakes and he's by far the first to blame for these results.
---
Patrice Evra – 5
Mixed afternoon for United's left back. Forced De Gea to save from Debuchy after failing to read Remy's through ball, and unlucky headed against Sissoko in the move that lead to the only goal of the game. On the flip side, he's showing more appetite for the ball and point-blank refuses to take any bad result lying down, and could easily have had two more headed goals in the last week with a bit more luck. The mere fact that he still has enough drive to get up for corners and attack down the left wing is heartening, even if he occasionally falls short on his day job.
---
Nemanja Vidic – 4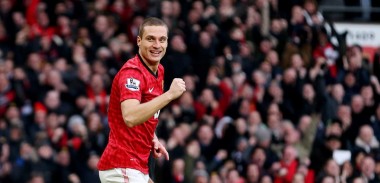 Looks a little like a caricature of himself lately; still plays part, and made a thumping challenge on Anita late on that roused the crowd temporarily, but was badly exposed by Evra for the goal, allowing Debuchy to ghost in and slide home. He's still doing the basics correctly and never looked too uncomfortable, but at present, he's not commanding his back four with the ferocity that United need. The club is desperate for a leader on the pitch, and our captain isn't quite fulfilling that role.
---
Jonny Evans – 5
Much the same; unremarkable yet often solid enough. Got caught on the hop for the goal, but almost got on the end of a dangerous Van Persie free-kick earlier on. Wanted to be involved in as many set-pieces as possible.
---
Rafael – 5
Still looks short of full fitness, but that's to be expected after injury. United do look more of a threat down that right-hand side with him there, for sure, but he'll need a few more games to get back to his normal level. Didn't do much wrong before he was substituted on '68.
---
Nani – 4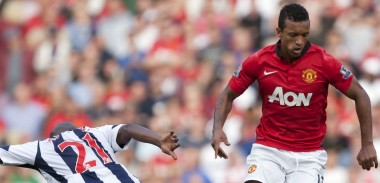 Had a useful burst of pace in the first half after Cleverley manufactured a break, but otherwise struggled. In a team short of confidence, it's no surprise that Nani doesn't stand out. Has shown signs of being able to have a useful season, but he isn't the one to change the team's current (mis)fortunes. No surprise when he was substituted.
---
Tom Cleverley – 6
Looked more lively and useful than he has done in a long time. Showed more willingness to run with the ball, sprayed some superb long balls out to Januzaj on the right and displayed an early willingness to get forward when paired with Phil Jones. Perhaps the bar is set low with Cleverley, and this wasn't a magical transformation, but there were some semi-decent signs there. It's been a while since he's shown that sort of encouragement.
---
Phil Jones – 6
Committed to the cause. Won't be playing at centre-back any time soon if he continues to show this much effort. Almost took himself out of the game with a full-blooded gallop at Chieck Tiote that didn't do his legs any favours. He could've done with being a little more alert to Cabaye's presence in the build-up to the only goal of the game, but so could a number of others. United looked much less susceptible to the counter attack than they did in midweek, and he a large part of that.
---
Adnan Januzaj – 7
More effective and willing to get into dangerous positions than his counterpart on the other side of midfield, and played some lovely passes to Jones and Hernandez in the first half. Struggled a little in the second half, but he wasn't alone. Deserves as many chances to impress as he can get his little mitts on with our wingers so inconsistent, and looked capable of making things happen more than once. He's got a calmness on the ball and an attitude that can't help but make you a little excited when he has possession. It'd be wonderful if he was already a consistent bona-fide match-winner, but he's still offering more sings of encouragement than half of the squad in one go.
---
Robin Van Persie – 5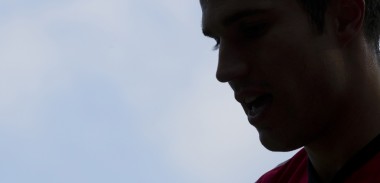 Had his offside goal stood, this'd be a tale of unrequited love for a player capable of dragging United onwards through his razor-sharp finishing alone. But it didn't, and he looked short of match fitness. Moyes said himself that the plan was to remove him but with his side 0-1 down, that became impossible. Struggled to get to grips to the game but suffered from a little Rooney-itis and had to drop a little too deep to support Hernandez. Impossible to keep him out if fit, and he did what he could, but understandably fell short. Even if the rumours of him agitating for a move are untrue, you could hardly blame him for the discontent at this point.
---
Javier Hernandez – 4
Showed plenty of energy and……hold on, I'm thinking.
Look, Hernandez has incredible predatory instincts and can sniff out a chance like few players in the league can, let alone United, but he can't make things happen in the same way most natural strikers can. If opportunities aren't created for him, then he'll struggle. His work rate and commitment should never be in question, but picking Hernandez is incredibly limiting if there's not enough happening behind him.
---
Subs:
Wilfried Zaha – 5
Wrong game. It must've been an incredibly frustrating few months for Zaha, sitting on the side-lines and not even making the bench whilst the likes of Young and Valencia dallied about, and the wise suggestion was to use him with their form in mind. Biggest contribution was an audacious attempt at a curling strike soon after he was introduced that lacked quite enough bend to beat Tim Krul. Otherwise struggled, but surely worth more appearances now he's made his league bow.
Anderson – 5
Added a little impetus to the midfield with a few strong runs, but often met the immovable object that was Newcastle's unshakable midfield. Opportunities in what looks like his final season at the club to prove that he can cut it have been scarce, but given how little attacking drive our midfield has, there's surely no harm in giving him a few more.
Antonio Valencia – 4
Not a natural right-back, but has played there enough to be a little firmer and not gift possession as easily. Hardly an inspiring last substitution to make, coming on as he did for Rafae, but he had a tough task to breach a Newcastle defence that had looked pretty damn solid whilst defending.
Do you agree with the Manchester United player ratings? Comment in the section below.
Enjoy that? Give it a share!