In the context of a game in which United twice came back from a goal behind, a 2-2 draw at White Hart Lane should be seen as a point earned, even if it does drop them another two behind league leaders Arsenal. There were no great controversies and neither side will be thoroughly pleased with a share of the spoils, but neither did enough to win the game. Here's what we thought:
---
On its own, it's not a bad point
Having drawn at this same ground last season, conceding a last-minute equaliser to Clint Dempsey, it's of strange comfort to know that despite the surely astronomical sum spent by Spurs in the summer after shipping Gareth Bale off to Madrid, no gap has grown between the two sides. On the surface, things have changed little; Aaron Lennon still exposes Patrice Evra at every given chance with his pace, and Spurs are still winless at home against United since 2001.
The hosts have more to rue from this draw than United, looking exceptionally dangerous in the wake of Kyle Walker's opening goal and will surely look at Roberto Soldado's blast over as a crucial opportunity missed. From David Moyes' perspective, given how little fight United showed having fallen behind at Anfield and against West Brom, the response to twice going a goal down was heartening.
The fact that they fell another two points behind Arsenal is less encouraging, of course. There was a belated attempt to stretch the game, with Nani and Ashley Young brought on late, but United scarcely looked like scoring a third, and ultimately settled for a draw. That attitude in itself is something that Moyes must address at some point, as this makes the result in Cardiff even more disappointing.
---
United were a lot less effective in midfield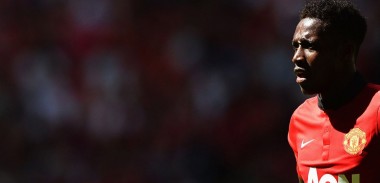 Put that down to personnel changes and far less lacklustre opponents. Ryan Giggs, having played the full 90 minutes in the midweek thrashing of Bayer Leverkusen, understandably didn't feature, and his replacement, Tom Cleverley, is hardly one of United's more incisive individuals. The link to Shinji Kagawa was missing, and whilst that doesn't excuse the Japanese from a fairly ineffective display, there was a lot less fluency to United centrally. Out wide, Danny Welbeck's inclusion ahead of Nani was somewhat confusing given how well the Portuguese had played in Germany, with the English international struggling to get into the game out on the left.
Unfortunately, a league is yet to exist where United can play Leverkusen every week, and Sunday's game was always going to be a different story. Still, it was worrying how little United created in comparison, even if it wasn't entirely unexpected. The same familiar problems that've dogged the club this season aren't so much rearing their heads as they are jumping around screaming obscenities, and Moyes' lack of a recognised starting XI and cohesive midfield unit aren't helping when they need a little push to turn a result in their favour. A point at Spurs is hardly disastrous, but the biggest issue with the performance was that United didn't look that close to winning.
---
Neither side won the counter-attack battle
It's worth pointing out that Andre Villas-Boas has a number of incredibly nippy players at his disposal. Paulinho, Kyle Walker and Lennon were all given plenty of encouragement to run at United (not that the latter hasn't already on numerous occasions), and the game suited the hosts more in the first half when it was more stretched. Their second was a moment of magic from Sandro, but their attempt to put the game to bed the break that led to United's equaliser, which seemed to prompt a more measured approach from the hosts having seen their visitors strike twice with little sustained pressure.
In some ways, yesterday was an example of two irresistible forces meeting and no clear winner being decided. Both have pace to burn but too often struggled to make it count. In that sense, a draw, whilst doing little for either side, was probably the right result.
---
Hernandez can only be judged by the chances he misses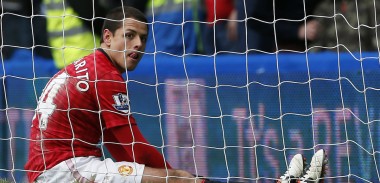 Singing Wayne Rooney's praises is getting a little tiresome (even if the man destined to become our third-highest leading scorer of all time in a matter of days was the best player on the pitch yesterday), so let's leave that for another time. Given Moyes' need to rotate his starting XI, Javier Hernandez has found himself featuring more often than he'd expect of late even after his own personal Twittergate, with two starts and a substitute appearance yesterday. Starting berths against Real Sociedad, Cardiff and yesterday's cameo have yielded a grand total of 0 goals for the club's most lethal finisher, but that doesn't really tell the whole story. One veritable sitter in Spain is all the Mexican has been able to get near, because the chances have otherwise not been there for him to miss.
The problem is that Hernandez has seemingly set his exit from the club in motion. He doesn't strike you as a man desperate to leave and has a great affection for United, but if more game time is what he's demanding, and he doesn't make enough of the chances offered, then the club will reluctantly let him go and fill the gap with a player capable of offering more up front. As mentioned, the sort of bread-and-butter chances he thrives on haven't been there, but the best players are able to make them happen as opposed to waiting for them to arrive. Simply put, if Hernandez wants to stay, then he may need to offer a little more than a keen eye for goal and energy during a period where United aren't offering a consistent bevy of goal-scoring opportunities.
---
Returning players could provide a timely boost ahead of a big few days
Not that United are so adrift this season that a crisis point has been reached, but ahead of two consecutive games against higher-placed teams in the Premier League, any encouragement is welcome. Both Everton and Newcastle United are on superb runs, so Rafael's attacking instincts at right back and Robin Van Persie's quality up front will hopefully provide United with more options going forward and an impetus to grab maximum points with Arsenal having discovered something of a winning habit.
Both sides will come to Old Trafford in fine form, with Everton having lost only to City in their last ten games and Newcastle on a four game winning streak that has included victories over Chelsea and Spurs. As such, the better attacking weapons United have at their disposal, the better, and given the problems experienced in attempting to draw three points from games in Cardiff and North London, those needs are becoming a little more pressing.
What did you think of the Tottenham Hotspur match? Comment in the section below.
Enjoy that? Give it a share!