Manchester United put in one of their best performances on Wednesday night, beat Bayer Leverkusen 5-0 away at the BayArena in the UEFA Champions League, our latest writer Iwan Lehnert takes a look at what we learned from that game.
Our midfield hasn't looked as adventurous as that in a long time
Not that previous combinations haven't yielded efficient, disciplined displays  over the last twelve months (see Arsenal a few weeks back), but the sheer focus, incisiveness and quality of United's midfield last night was a sight to behold. Ryan Giggs and Phil Jones, neither traditional central midfielders, looked incredibly composed with Jones holding a solid line for United to attack from and 39-year old Giggs running rings around Leverkusen's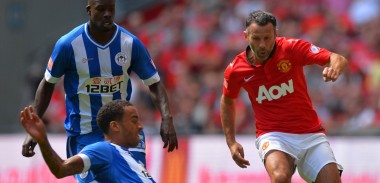 defence. United were just as impressive out wide, Antonio Valencia finding a spurt of the sort of intensity and drive that has mostly eluded him in the last twelve months and Nani far more composed and confident on the ball.
Of course, United benefitted from Leverkusen's slack defensive display, but they never stopped working or looking for goals, refusing to allow the home side time to lick their wounds and offering Shinji Kagawa and Wayne Rooney near-constant service.
Perhaps the only downside to this is how thoroughly the likes of Tom Cleverley, Anderson and Marouane Fellaini have been shown up in the process. At the risk of sticking the boot in unnecessarily, United looked a much better side in comparison to Sunday's stuttering performance in Cardiff, and the difference in engine room personnel was a big part of that. Here's hoping last night's display provides a few individuals with some impetus.
Some of the squad's more maligned individuals shone
It's no secret that both Valencia and Nani had a difficult time of it last season. The former struggled for form and looked short of confidence whilst the latter found opportunities hard to come by and saw his season marred by that fateful sending off against Real Madrid. Nani was rewarded with a bumper five-year deal that appeared somewhat extreme in terms of generosity, but his season has yet to sparkle, most notably appearing several miles off the pace against Stoke. But both were in fine form last night, looking sharp, fit and determined to make a difference.
Adnan Januzaj's emergence out wide should hopefully have dealt a reality check to both, with the young Belgian showing more adventure in the early part of this season than both managed last term combined. But it's easy to forget that both are very effective players when they're on form, Valencia strong and direct and Nani capable of stunning pieces of skill as displayed by their goals last night. Both put in impressive performances, but the challenge now is to maintain these standards having flattered to deceive a little too often in their United careers.
Ryan Giggs easily wins the award for the night's most impressive performance, however. It was difficult to avoid the scoffs when his name was read out in the starting XI, even moreso when his role for the night became clear, but his passing, vision and sheer energy was stunning. His critics will point to last season's defeat at home to Spurs as great evidence of his dwindling powers, and he'll have reached his 40th birthday by the time United turn out at White Hart Lane on Saturday, but last night, he proved that he can still be valuable to the club on the pitch.
David Moyes has (so far) adjusted well to the Champions League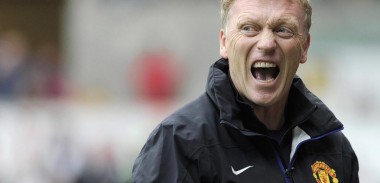 One of the biggest complaints when Everton's former boss took over from Sir Alex Ferguson was his near-complete lack of European pedigree. Understandably, fans were worried that United would suffer in a vitally important competition to the club both on and off the field. But, having been given a potentially tricky group to navigate, United sit pretty after five games with qualification to the knockout stages already sealed.
A few factors have helped, certainly. Bayer Leverkusen twice served themselves up on a platter and Real Sociedad are clearly not ready for this level of football at present, but credit where it's due; Moyes has navigated a crash course in the competition and come out relatively unscathed. He might look at a dour 0-0 draw in Spain or United's limited approach in Donetsk as blotches, but his side have looked solid, created chances seemingly at will and have shown far more confidence in themselves than they have domestically. No doubt he has been aided by the experience that his squad already have in this competition, but Moyes has passed one of the biggest early tests of his United tenure reasonably well.
But December will provide his biggest test yet
…mostly because United have nine games in three different competitions, including seven in the Premier League. The end of this calendar year is going to be a huge test for the club and its new manager, make no mistake. There's the upcoming trip to Spurs,  a League Cup ¼ final date with Stoke City, the visit of Everton and a chance to seal top spot in Group A with a tie against Shakhtar Donetsk. It'll test the squad's current strength and depth with the January transfer window on the horizon, force the manager to frequently rotate and refresh his starting XI and could well decree if United are capable of challenging for the league this season with a whopping 21 points available.
Not your average month, then.
It'll be (hopefully) fascinating to see how Moyes approaches such a busy period; how often can he rest his star strikers (not very often)? Will some fringe players shine (if it's Anderson, perhaps not)? Will Anders Lindegaard get off the bench (maybe against Stoke)? Whatever happens, United surely need at least four, perhaps five wins from league games to stay in touching distance of top spot, so morale-boosting victories like last night's become vastly important for the team's confidence and momentum. Here's hoping for a few more emphatic scorelines in our favour, then.
Enjoy that? Give it a share!