A drab and boring nil – nil draw on Tuesday night wasn't how Moyes would have wanted to go into this game against Arsenal. The Champions League outing against Sociedad was one that would have been ear marked as a win and the required three points to get United to the ten point mark and qualification from the group. I'm not one that likes to say that a match this early in the season can be a title decider and I don't think this one is going to be either. I do however think this is probably the most important match that Moyes has had since he took over at United. Arsenal are currently 8 points clear over United at the top of the league and will turn that into 11 points if they can come away from Old Trafford with a victory.
The line-up is key this week, the midfield for Arsenal will be one of the toughest that United have had to deal with and if Moyes is to go with his standard 4-4-2 formation then United will struggle and likely say goodbye to the unbeaten streak.
Moyes will be happy that since taking over at United he has had the ever improving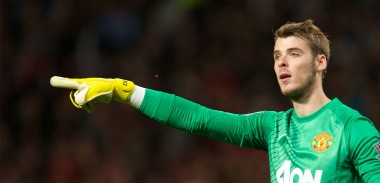 David De Gea in goal and that should continue on Sunday. In front of the Spaniard is a different story, there have been numerous combinations of the back four since the Scot took over and that makes it one of the hardest lines to predict. Patrice Evra is the one man in the back line that seems to play whenever he is fit and this Sunday Moyes will be needing a great performance from the Frenchman. I'm guessing that the other names in the defence could come from any combination of the remaining options. Even the usually dependable club captain Nemanja Vidic has been suspect when he has made appearances this year. I would expect Vidic to start on Sunday though, he's a strong defender that likes to throw himself into everything and is one that will not be phased in the slightest by the challenge of a table topping Arsenal coming to visit. Rio Ferdinand could retain his position from Tuesday night against Arsenal but this season he has repeatedly been found wanting whether it be positioning, touch, speed. I would guess that Evans will start alongside Vidic, Evans to me is what Ferdinand was before he joined United, usually in control of the game, reads the play well and his performances this season since his return from injury have been positive with the minor exception.
To complete the back four I would expect Phil Jones to take up the position on the right of the defence. If I was reading this on a normal week I would be screaming at the screen, the idea that Rafael could be fit and not starting is ludicrous isn't it? Well no it isn't, Rafael is without doubt out best attacking defender, but on Sunday with such a strong Arsenal midfield the United defence will be looking for someone to do a much better job at their first job, defending. That's not to say that Rafael can't defend well, it's just saying that I would Rather see Ozil or Carzola run at Phil Jones than Rafael.
The midfield is where the game will be decided I think, Moyes will elect to start what would appear to be a 4-4-2 but I will expect him to follow in the footsteps of Sir Alex and ask Rooney to drop back into the midfield to help out, effectively making this a 4-5-1. Fellaini has been improving and despite a late scare looks like he should be able to make the match on Sunday. With his improving form, ignoring his red card against Sociedad, it seems logical to add Fellaini to the mix to add some extra defensive capabilities to the United midfield on Sunday. Alongside the Belgian I would expect Carrick to be United's hope for a killer pass that will unlock the Arsenal defence.
The improvement we have seen from Antonio Valencia this season has been remarkable. Don't get me wrong, I'm not saying he's a world beater or even that he is back to his best but what I am saying is that he is doing something that he wasn't last season, beating his man and getting crosses in. The work he does defensively is also a massive positive for Moyes and I think that is the main reason he will be chosen ahead of other options of Nani, possibly Januzaj or Young.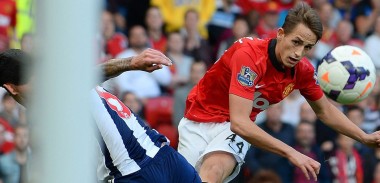 The left side of the midfield is a much harder question to answer, should Moyes start Januzaj against Arsenal? This will be one of the most pressure filled games of the season for United and giving the youngster a start might be too much of a gamble for a man that has been under pressure from some sections of the United support. The other option is Kagawa, while my personal opinion of Kagawa is that he is one of the best players at United and just needs to regain the form he showed at Borussia Dortmund, in recent weeks he has been given chances and has done anything but steal the show. It's hard to know who Moyes will go for but my feeling is that he may persevere with Kagawa as his performances have improved slightly. I'm not sure his appearances on the left wing have been working out for him as he drifts towards the centre so often but if he is to be a success at United then it's a position he will have to make work.
Leading the line can only be Robin Van Persie, his eye for goal is second to none and he really is one of those players that you just can't leave out in a game you want to win. Starting with Van Persie doesn't mean that there will be no need for someone like Chicharito, the call may come midway through the second half if United are struggling to unlock an air tight Arsenal defence.
Predicted Manchester United XI vs Arsenal:
The importance of winning this game is great for both teams but I think if you were to offer Wenger a draw right now, he'd snap your hand off. Moyes on the other hand needs more from his team, staying 8 points behind the league leaders while everyone around United has the opportunity to go further ahead is unacceptable. A win on Sunday would also dispel the belief that Moyes can't beat the big teams, a sentiment I have no belief in. Hopefully on Sunday the terraces at Old Trafford are filled with the joy of a strong win, and only five points between United and Arsenal.
Who would be in your starting Manchester United XI against Arsenal. Comment in the section below.
Enjoy that? Give it a share!