It felt like there was more than one eye on the visit of Arsenal
At least that's what the majority of United's low-intensity performance displayed. Lackadaisical isn't the word, but it was surprising to see so little in the way of endeavour. Real enjoyed a superb run to get to this stage last season but are struggling to juggle league and European commitments. Even worse, they gave United a little too much respect all over the pitch and United weren't clinical enough to take advantage of it.
But then again, at least half of this starting line-up will be turning out in what is now a huge game on Sunday afternoon. Given Arsenal's blistering start to this season and the eight point gap that currently separates us, defeat is a most unpalatable option for United's title prospects. With a clearly fit Van Persie on the bench, there were signs that Sunday's game weighs on the management's collective mind. United will need to be strong, energetic and work harder than they've been required to to overturn the Gunners this weekend, so perhaps it's just as well that there's something left in the tank ahead of the international break.
---
One more disappointing result and the ghost of Basle 2011 will rear its head
The thought of that evening in Switzerland two Decembers ago still sends shivers up the spine. It was an awful, numbing result that saw us kicked out of the Champions League's group stages barely six months after reaching its final. Only needing a draw to progress, United went down swinging wildly in a season bereft of trademark fightbacks. In short, it wasn't a proud moment.
So, why bring it up at all? Because United are showing signs of repeating mistakes that should've long been expunged from their system. These two games against Real Sociedad should've brought at least five goals, probably more, but the finishing has been lax, and the approach has, more often than not, appeared far too casual. A 1-0 win is never cause for unrelenting criticism, but a 0-0 draw against opponents who often looked like they needed a kick up the collective behind to even consider attacking doesn't exactly inspire confidence with a visit to Leverkusen's Bay Arena 3 weeks away. Bayer sit four points off the top of the Bundesliga and won't be anywhere near as welcoming as Real were last night. United's act will need to be pulled together by the time matchday five comes up, as they've flattered to deceive against weak opponents, and the thought of leaving qualification hanging in the balance by the time Shaktar Donetsk come to town….well, you get the picture.
---
Ashley Young deserves to be dropped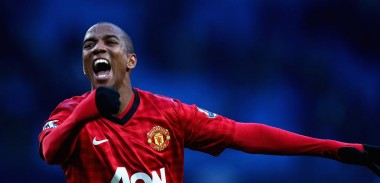 Last night's comical overreaction in the penalty area was not his first offence, not by a long shot. There was the slightest bit of contact from Markel Bergara in Spain last night, but the same happened when Crystal Palace's Kagisho Dikgacoi came across to stop Young at Old Trafford in September. Both times, Young went down as if his legs had suddenly failed him and won a penalty. Both Sir Alex Ferguson and Moyes have publicly voiced their displeasure at these antics, and have probably offered more severe words in private, so why is this still an issue?
Frankly, it's embarrassing for the club. Young is a capable player and looked sharp before this latest blotch on his permanent record, yet he faded badly after his con backfired. He's good enough that he shouldn't need to trick any referee into gifting United spot-kicks, but if he continues to fumble as if trampled by an imaginary stampede whenever bearing down on goal, he shouldn't expect to play a vital role for the club.
---
Fabio must be doing something terribly wrong behind the scenes
That's the only explanation I have for his continued absence from the team. He's not on the level of his brother, certainly, but his continued exclusion, save for a short yet highly successful cameo against Norwich City last week is baffling. It's even worse when Alexander Buttner is seen as a more attractive understudy for Patrice Evra and Chris Smalling, a capable centre-back is shunted over to the right so frequently when Rafael isn't picked.
There was always a chance that some players wouldn't cut it when David Moyes took the reins, but given that the secondary options that United have for both of their starting wing backs hardly inspire confidence, Fabio's continued exclusion becomes even more worrying.
---
Shinji Kagawa is a square peg in a round hole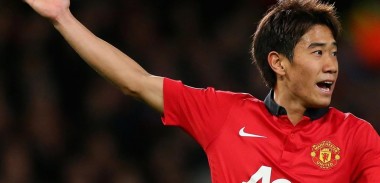 It's all quite predictable, really. The heart does a little flutter whenever his name is on the team sheet, but reality quickly sets in when he is plonked out wide. It's not like Kagawa can't function on the left and drift in when the occasion calls; he was impressive when afforded more space at Old Trafford against Real two weeks ago from that starting position. But, on the whole, it's really no shock that he's not as effective as his talent suggests when continually deployed on the wings. He found a lot of success sitting behind Robert Lewandowski for Borussia Dortmund but it's not replicated with two strikers start ahead of him, and it's no surprise that he instantly looked a greater threat when he had just Robin Van Persie to play with last night.
The quandary for Moyes is that Kagawa is a distinctly talented player that he can't seem to accommodate. It's a similar issue for Javier Hernandez; both impress in their preferred roles, but giving them that opportunity means forcing one of Van Persie or Wayne Rooney to make way. On current form, can you really say that Kagawa and Hernandez deserve to start ahead of the best attacking players at the club on a consistent basis? If Kagawa truly wants to fit in at Old Trafford, adjusting his game will be key, as dislodging Rooney in the starting XI looks distinctly unlikely at present.
Enjoy that? Give it a share!