After a blistering 13 minute period in the first half where United found Fulham's net three times, you could be forgiven for expecting a statement for a final score from the reigning champions. Ultimately, the hosts made it a lot less comfortable with a much more dedicated and hard-working display, shutting down United's attack and making a decent number of chances themselves. But with a visit to Spain in the Champions League in midweek and the small matter of Arsenal next Sunday, United finished the afternoon with a valuable win. Here's what stood out for us:
When United want to attack, they're ruthless
Other than the three goals, there were few promising moments sprinkled throughout the performance, with the chances drying up in a fairly disappointing second half. But the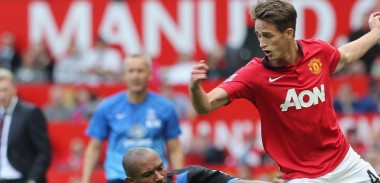 quality of the play for those goals was hearteningly exciting, and most importantly, clinical. Wayne Rooney played Fulham's defence for a bunch of beginner FIFA players for the opener, waiting the perfect amount of time to slide in Antonio Valencia for a simple finish. At the risk of overdoing the Adnan Januzaj praise, he played in Robin Van Persie perfectly for United's second. The Dutchman's finish was emphatic, slamming the ball beyond Maarten Stekelenburg with some intensity before turning provider, serving up the ball for Rooney to tap in from a yard. Fulham played into United's hands in the early going with a high defensive line coupled with immobile defenders, and the ease with which United went about their business was fantastic to watch.
When United struggle to attack, they're lackadaisical
Martin Jol clearly had some stern words at half time because his side upped their game after the break. The space that United had exploited so efficiently in the opening exchanges was gone, and chances were much harder to come by. Fulham tested United's reshuffled back four, and almost made the result a lot less comfortable but for Kieran Richardson's off-target header and Darren Bent clipping the bar.
Chris Smalling, despite having less opportunities at centre back than he'd like is accomplished enough at his job to be able to slot in when needed, and the back four should not leave holes like the ones we saw. Admittedly, the triple substitution at half time didn't help anyone (bar the lads who'd picked up injuries, obviously), but it disrupted United's flow to a rather worrying extent. It's utterly unrealistic to expect United to attack constantly and play buccaneering, attractive football constantly, but there needs to be solidity at the back to offer some sort of backbone when they decide to sit back and absorb some pressure. At the moment, United look great going forward in spurts, yet decidedly unsure when teams decide to have a go.
Don't look now, but we're unbeaten in seven
Real Sociedad thrashed Osasuna 5-0 in La Liga earlier today, and Arsenal are unbeaten in the league since Aston Villa ripped into them on the opening day, so there's no doubt that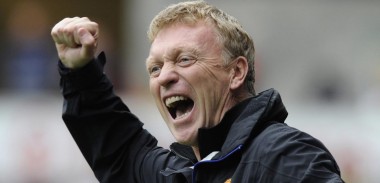 this unbeaten stretch will come under intensive scrutiny before next weekend is over. But after a fairly disappointing September (don't go back and check the results, you'll just make yourself sad), runs such as these are vital for building confidence, not just for the players but for a manager still struggling to find his best XI. This kind of flow is vital for the club because there are still signs that United are far from impregnable. Arsenal will be aware of our weaknesses, make no mistake, and Moyes needs to strike a balance between stability at the back and strength up front. If it's a tight, tense affair, we'll know that he'll have done his job.
Marouane Fellaini's scrap with Sascha Riether was his biggest moment in a United shirt so far
And yes, that says a lot about the Belgian's performances for his new club. Again, it's still early days, and he didn't ask for a price tag verging on £30m to be attached to his ankle, but the aura he had at Everton, as someone not to be messed with and someone who could inject a little physicality into proceedings, just hasn't been there so far. It hardly reflects brilliantly on him that a shoving match with Riether after the German stamped on Januzaj has been the Belgian's most memorable contribution to his new club since he signed. At the very least, though, it showed that he still isn't afraid to step in when his teammates need protection. Not only that, with Januzaj fast becoming a piece of the furniture in the starting XI, the Belgian could find himself jumping in more often as opposing teams look to stick the boot in to the young lad. Yet in the grand scheme of things, Fellaini wasn't brought in as the footballing equivalent of a bouncer, and his passing is still worryingly loose and slack. Simply put, it's something that needs to be improved quickly.
You don't have to like Wayne Rooney to enjoy what he's doing
Football fans do have notoriously short memories, and allegiances between clubs and their star players can be broken beyond repair one weekend and then mended one goal later. In the case of Rooney, it continues to sting that United's best player this season has now asked to leave the club twice, but still turns out for us like it's business as usual. But of course, what makes that pill a lot easier to swallow? Performances like this.
He had a hand in everything that United did well today. His patience when bearing down on goal for United's opener before finding Valencia points to a player not quite as selfish as others would have you believe, and finding himself in the right positions at the right time like he did for United's third isn't a coincidence. He's working hard, scoring goals and creating them. Even if he leaves within the next twelve months, at least he's giving us his best when a number of his teammates are developing a worrying tendency to freeze at random moments.
What did you think to the Fulham game? Comment in the section below.
Enjoy that? Give it a share!