United strode into the quarter finals of the Capital One Cup last night with a comprehensive and clinical 4-0 victory over Norwich City at Old Trafford. It might be languishing at the bottom of our priorities this season, but David Moyes doesn't appear to be willing to let an opportunity to win a trophy pass under his radar. Two Javier Hernandez goals and strikes from Phil Jones and Fabio sent United on their way to the last eight, and here's our take on it.
Whisper it, but we had a defence last night
Nemanja Vidic played like someone that had recently been written off. He was biting into challenges, pressuring high up the pitch when attacks broke down and looked solid as frozen Yorkie bar. Rio Ferdinand was equally firm in a back four that looked decidedly tight, and whilst the use of a five man midfield was massively beneficial to the level of their mobility, they looked sharp.
The point stands, of course. At some point, Vidic and Ferdinand will need to be phased out, but given the shaky spurts that their replacements have been prone to of late, calling for them to be exiled from the club post-haste is just a little daft. They're still excellent defenders, let's not forget that. Last night wasn't the greatest stage for their talents but it was a timely reminder of the quality they do possess.
Alexander Buttner's inclusion ahead of Fabio didn't initially instil confidence, and he still looked far too deseperate to impress, resulting in some characteristically loose play. The cross for Hernandez's second was a beauty, but his inclusion ahead of Fabio in the kind of games that the Brazilian could sorely do with playing leaves a slightly sour taste in the mouth.
Forget the diving; Ashley Young looks well short of his best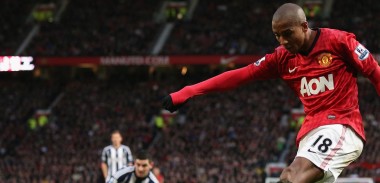 Sticking the boot into Ashley Young is about as challenging as shooting dead fish in a barrel. Everyone's doing it, and whilst his diving exploits are hardly helping to increase his popularity, there comes a point where the constant criticism starts to have a detrimental effect, and by extension, hurts the club. But take away the theatrical spills, and let's look at the player himself. How's he faring? Answer: not particularly well.
From skimming through my match notes, I've got at least three instances where he sent crosses towards Wilfried Zaha that were either too high to make decent contact with or too long. At the risk of being picky, the one that stands out most happened just a few minutes prior to Javier Hernandez's second, when he had acres of space and time to pick out the right ball down the left and still mucked it up. Not only that, but the second goal came from a direct result from Alexander Buttner marauding down his flank and picking out the Mexican perfectly. Not to stick the boot into the Dutchman, but if he can do it…
Point being, Young's clearly not playing with any confidence, and the longer the groans from United fans continue, the likelihood of the situation changing any time soon decreases. If Young wants to succeed at the club, then he needs to accept the fact that he isn't guaranteed starter and work harder on his game, which at present isn't up to snuff.
Wilfried Zaha deserves more game time
Not that we should be unduly worried about one misfiring winger given how sharp Zaha looked out wide last night. There's a tangible feeling that fringe players needs to make the most of every opportunity that comes their way under David Moyes (unless you're Anders Lindegaard. The only way he'll start ahead of David De Gea regularly is if the Spaniard falls into a coma); Zaha must've been frustrated to have been overlooked over the last few months, but he did himself a few favours down the right against Norwich. His footwork and crossing were both impressive, but his all-round effort was the most satisfying aspect of his game. He refused to be pushed off the ball easily, stood up to the physical aspect of the game and worked hard to make sure Rafael wasn't left with the lion's share of the defensive work down the right flank.
Does that make him an automatic starter? Probably not, but he'll have got the manager thinking. Norwich offered little resistance last night but Zaha still took the game to them and seemed to revel in the opportunity. Whatever your thoughts on Saturday's booing of Nani, the Portuguese had a veritable stinker against Stoke, and with the number of disappointing performances out wide increasing,  Zaha looks willing and capable of making more of an impact than he's been allowed to so far.
Javier Hernandez is happiness personified
There are few people that are as joyful to watch in a United shirt than Javier Hernandez. This isn't a revelation by any means, but it's worth bearing in mind because there's a chance that he'll have to make do with a spot on the bench at Craven Cottage this Saturday even after scoring three goals in two games. Despite being unable to hold down a regular place in the starting XI since his first season at the club, his loyalty has been constant and he continues to chip in with vital contributions when called upon. The supersub calls are justified and comparisons with Ole Solskjaer don't do either a disservice because his uncanny positional sense finds him in the right place at the right time so often. It's like clockwork. Constantly impressive, deadly clockwork. Not only that, but the sheer joy on his face when he scores can't help but make you just a little less cynical about modern footballers.
How did you think Manchester United did against Norwich City? Comment in the section below.
Enjoy that? Give it a share!