Saturday sees the visit of Stoke City to Old Trafford as the Red Devils return to Premier League action. A disappointing result last weekend from a promising position against Southampton followed by a strong performance against Real Sociedad midweek have left the United faithful hopeful of securing the three points against the Potters.
Wednesday's game saw the most creative football from the United attack in weeks and was a great setup for the visit of Stoke City. Mark Hughes has taken over a team that has been renown for playing non-technical, long ball football. This is something that should allow United a great chance to gain some confidence in the passing ability of the United midfield.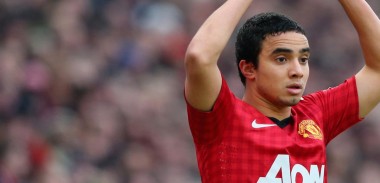 After a strong performance against Sociedad I would expect the back five of De Gea, Rafael, Jones, Evans and Evra to be the perfect candidates to start again on Saturday. Moyes has rested Ferdinand recently; this along with the return of Vidic from a slight injury may force the Scot to rethink his starting back line. I hope he fights off this urge and continues to trust in a defence that seems to be growing in stature with Evans and Jones looking better in the centre with each passing game.
Ryan Giggs started in the middle of the United midfield alongside Michael Carrick on Wednesday but it is very unlikely that the aging United legend will start again on Saturday. When asked about the condition of Marouane Fellaini the manager said, "It's never easy when you have an injury that needs something doing to it. People who play football will tell you, you use your hands and arms quite a lot for balance and pushing off, and so it can be awkward when you've got an injury. But he is fine, he's getting used to it now and hopefully he play even in the condition he's in." This is good news, as Moyes doesn't have a full list of options available to him. Tom Cleverley is another injury worry confirmed by Moyes, "Tom Cleverley is still recovering from his calf but overall we're pretty strong".
If Moyes decides that he wants to start with someone other than Fellaini because he isn't ready to make a return then his options are limited, Anderson is available but has had poor showings already this season and it would seem he will only get a chance if Moyes has no other option. Shinji Kagawa could also be thrown into the mix but this would be a very risky move. I am a huge fan of Shinji Kagawa, I think he has the ability to make a huge impact playing just behind the striker and has brilliant passing ability but even I wouldn't think that the partnership of Kagawa and Carrick would be a good one against Stoke. If Stoke play a physical game with Carrick and Kagawa then it could turn into a very long day for the United midfield. After saying all, I expect Carrick and Fellaini to start with Moyes hoping for Fellaini to start making the impact he expected when he signed him from Everton.
Kagawa filled the left side of the midfield during the midweek game against Sociedad but I am expecting to see Januzaj make his return to the left of the midfield against Stoke. The young man has been a breath of fresh air in recent games and I can't see Moyes leaving him out in a game United need to win to really get momentum on their side. Moyes has opted to play Danny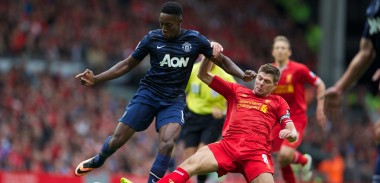 Welbeck on the left side of the midfield in the past but Danny looks unlikely to play a part on Saturday after being ruled out with fluid on the knee. "Everybody's improving and the only one who's a doubt at the moment is Danny Welbeck, who has some fluid on his knee." Ashley Young is also available for Moyes after making a cameo appearance against Sociedad for ten minutes. Young made some good runs on Wednesday but ultimately wasted the opportunities, whether or not he can regain the form that brought him to United is another debate but the chances of him starting on Saturday seem very slim.
The right side of the midfield will be a shootout between Antonio Valencia and Nani. Valencia played in the midweek against Sociedad and while he received plaudits for his relentless work getting down the right he did waste a lot of those chances with poor crosses. Nani played last weekend against Southampton and much likely Valencia put in a standard performance that did not aggravate supporters but also will have done little to cement their claim to a starting position. I hope to see Nani return to the starting eleven this weekend, I am sometimes overly harsh to Valencia simply because he is one of the more frustrating players in the United team. Valencia from two seasons ago was a much different player to the winger that we see today, he beats his man much less than in the past and even when he does now the standard of his final ball has fallen off dramatically. This isn't to say that I think he isn't a good player, but between Valencia and Nani right now, I think Nani offering more going forward in a time when we are struggling to break teams down should see him get the start.
The two players to start up front for United this weekend will likely depend on injuries, if Van Persie is back from injury then Moyes will likely start him with the hope of avoiding another upset. David Moyes has said, "Robin has a good chance. He's had problems with his toes and a little bit with his groin as well, but I think he should be OK. He's had a little bit of training as well." This sounds good for the Dutch international and will likely mean he starts alongside the in form Wayne Rooney. Kagawa and Chicharito are the other two names that Moyes could elect to start alongside Rooney. I would like to see Moyes be cautious with the return of Van Persie, his importance to the United cause has been stated numerous times and to risk his fitness by rushing him back would be a big mistake. Reports are that Chicharito has also picked up a slight knock against Sociedad and is a slight doubt for the game against Stoke. My preference would be to see Kagawa and Rooney start and attempt to continue the combination that they formed during the second half of the Sociedad game; my expectation however is for Van Persie to get the nod.
De Gea;
Rafael, Jones, Evans, Evra;
Nani, Carrick, Fellaini, Januzaj;
Rooney, Van Persie
This game could easily be another banana skin for United but trying to not be pessimistic I like to look at it and believe that this is the start of a good run for the Red Devils. Stoke are attempting to move away from the long ball game which has given opponents more space in games than usually allowed, this coupled with an improving United attack may mean goals and a positive result for the Old Trafford faithful.
Who do you think with be in the starting XI? Comment in the section below.
Enjoy that? Give it a share!