UEFA Champions League
Manchester United 1 Real Sociedad 0
There will inevitably be those who wish to place this narrow win over Real Sociedad into the dreary narrative they've devised around the early Moyes era: United live dangerously to grab an unconvincing and scruffy winner against fairly ordinary opposition.  I'm seeing it as part of a different developing narrative, one that sees us gradually emerging from a nervous period of form, showing more and more glimpses of the true United in the process.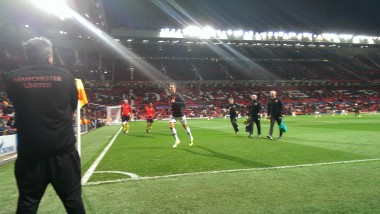 Taken with the HTC One
There were, unquestionably, two sides to United on view in this game, something that could be said probably about every other game this season and, indeed, last season.  The one that fired out of the blocks and looked able to overwhelm Read Sociedad was apparent for the first twenty minutes, during which the Reds grabbed an early goal that was ultimately enough to secure the win.  An excellent run into the box by an in-form Rooney, who beat three men before striking his shot against the post, finished with Martinez prodding the ball past his own keeper.  A scruffy end it might have been, but Rooney's weaving run exuded class.
As did United for much of that early period.  They moved the ball around quickly and harried Real out of possession on the rare occasions they gained it.  Kagawa dispelled many of the reservations held about him playing in a wide position with an excellent performance on the left, linking well with Evra and showing how productive he can be when he doesn't attempt to play like the out and out winger he clearly isn't.
Gradually, however, Real Sociedad began to come more and more into the game.  While they managed to create only occasional openings, the narrowness of United's lead combined with some increasingly threatening forays into our box to leave us looking decidedly edgy.  This was the other side to United, the one that's largely borne of a lack of confidence as well as that still evident lack of a convincing presence in midfield.  Giggs did well enough to plug the gap in this game, but it's still a gap and there were times when the visitors looked as if they might exploit it.
Although they seriously threatened De Gea's goal on a few occasions, they lacked a sustained cutting edge up front and most of what they produced was handled well by Evans and Jones, playing their second successive game together in central defence and again looking the real deal as a future pairing.  United were still creating the better chances, Bravo saving a powerful header from Jones, Valencia striking a post and Rooney steering his shot wide , although there were frequent periods where where an all too familiar nerviness this season entered our play.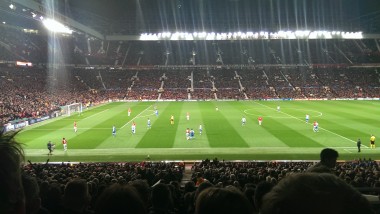 Taken with the HTC One
Again, there will be those who wish to emphasise this nerviness rather that some of the richness of United's passing game.  It's true the Reds lacked a ruthlessness in front of goal and true also that we failed to build fully on a promising start and put the game to bed and that, on a different day, we might have lived to regret it.  But then a tendency to keep us on the edge of our seats has always been a part of the real United too.  For me, three Champions League points, a strong position from which to qualify and some of our most productive attacking football  this season left a feeling of contentment that's been all too rare of late.
Enjoy that? Give it a share!