Manchester United played Real Sociedad in the UEFA Champions League at Old Trafford on Wednesday 23rd October 2013 in which the RedMancunian team were on hand to test out the new HTC One mobile phone before and during the match.
Now, we are all iPhone users and most of our communications are through email and iMessage for a quick goto application, so was more than sceptical of having a trial with the HTC One.
The look and feel of the device is one of power and elegance, the 1080p screen is a fantastic addition, making photographs and video stand out from the screen.
We went down pitch-side during Manchester United's warm up before facing Real Sociedad in which we tested out the camera and settings, the final product is way above those obtained on the iPhone.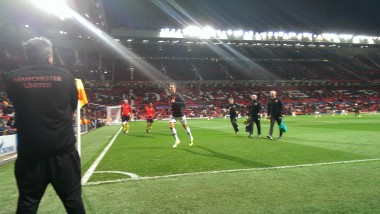 As you can see above from the photograph of Jonny Evans returning to the changing rooms, the focus point is directly on him with no motion blur or fuzziness, the HTC One camera also offered different setting including aperture and ISO levels, almost any setting that you would find on your most advance digital SLR cameras was available to use on the HTC.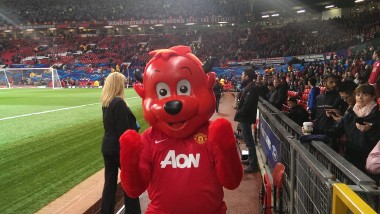 Fred the Red enjoying himself before the game.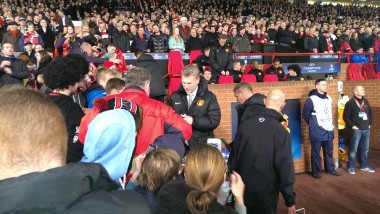 Manager David Moyes signing autographs before taking to the Manchester United bench to watch his team against Real Sociedad.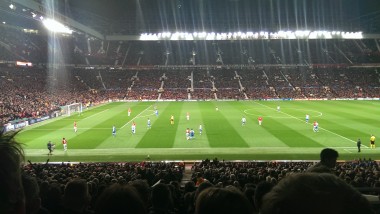 After just an hour with trialling the HTC One at Old Trafford, we have to say it is a fantastic phone for any user, with all the applications and music that android offers, the camera quality is fantastic and one thing which we were most impressed of, was the speed of functioning. Very very fast!
To conclude on what was a great night at Old Trafford both for us and the team, beating Real Sociedad 1-0, after trialling the HTC One we have cast out iPhone's to the side and since purchased the new HTC One. That is one thing I never thought that I would do, a massive step from Apple to HTC, but after only a few days of enjoying the new phone, it was the right one.
Enjoy that? Give it a share!