David Moyes has confirmed the extent of the injury to the wrist of Manchester United's newest signing Marouane Fellaini, revealing that he will indeed have to undergo surgery at some stage.
Manchester United are back in action on Saturday afternoon against Southampton at Old Trafford, a match in which Marouane Fellaini will be available for selection in the middle of the park after a successful international break away with Belgium.
Moyes has revealed that the club intend to delay the operation that is need for Fellaini, maybe for up to two-year.
Speaking with MUTV, David Moyes said:
"Fellaini needs an operation, unfortunately. It's quite a bad wrist injury

"There's a bit of bone and ligament sticking out but we've been told we can get away without operating for now."

"We can put it off for as long as two years. It's not in desperate need of doing, but it's whether he feels okay to play or not"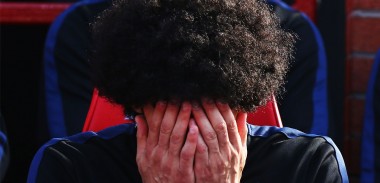 Fellaini is likely to feature on Saturday alongside Michael Carrick for United, with Tom Cleverley out with a calf injury.
Enjoy that? Give it a share!