There was no doubt Old Trafford has been louder in the last two games. Of course, we were playing Liverpool last week, which always gets the spirits up, but there was something more than that: United had been badly wounded at city on the previous Sunday; a lesser group of fans might have taken the opportunity to make clear their dissatisfaction with the team and with David Moyes. Similarly so in the dire capitulation to West Brom. But this was not a lesser group of fans: this was Manchester United's match-going support, and it does adversity very well.
This isn't popularly acknowledged, needless to say.  The conventional view of us is of a group of supporters, bloated and spoiled with success, who are in it for the glory and nothing else. That's why the press, following the West Brom defeat, chose to emphasize the boos from sections of the United support rather than the pro-Moyes chants and the singing of 'We'll Never Die' that sent a shiver up the spine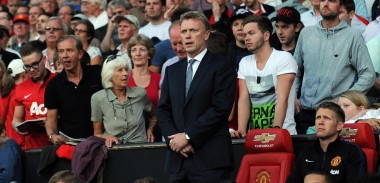 towards the end of the game. The truth is, United are possibly the only club in England whose support doesn't merely swell in size when times are good: bad times bring out the best in United, and its been that way for decades.
Take season 1973-74, a dismal one for the club: United on our way to relegation for the first time since the war.  In comparable circumstances, it's common for a club's support to become disillusioned and decline and to stay away from the ground in increasingly larger numbers. Not United. Despite the successful years of the fifties and sixties being clearly over and showing little possibility of returning soon, United's home support actually rose in our relegation season and we became the first club ever in English football to have the biggest average home attendance in a season in which we went down.
United's attendance didn't merely stay sold during our season in the second division – it increased.  It wasn't a marginal increase either, but a healthily inflating attendance figure of a kind that most clubs only experience when their team is experiencing unusually good times.  For United, it goes without saying that these were unusually bad ones and yet we became the only club in over fifty years to be the best supported side in the country, despite playing outside the top division.
This isn't the case elsewhere. Our close neighbours city have of course enjoyed a lot of yo-yoing during the period in question; in fact, they've been relegated from the top division on six occasions, and despite their reputation for resilient loyalty among their supporters, on all of those occasions their average attendance declined while they were in the second tier. This is despite the fact that twice they followed this up with a quick promotion and on one other occasion (1983) only just missed out. On the three occasions Leeds have been relegated from the top division since the fifties, their support has plummeted. They lost more than seven thousand, over a third of their fans, from their average attendance when going down in 1960, almost a third in 1982 and over seven thousand again in 2004.
And what of that other team so often held up by the media as a paradigm for fan loyalty – Newcastle United?  Unfortunately, as is so often the case, we find that media representation and conventional wisdom don't tie in with reality. Newcastle have suffered the drop four times since the war, and, only on one occasion – in 1961 – did their average attendance show a very small increase.  In the three relegation seasons since then, they've consistently seen mass evacuation of St James' Park that would only be reversed on return to the top division; over 20% deserted them in 1978, there was a small but notable decrease in 1989 and a fall of over five thousand in 2009, despite their team winning the Championship that year.
When Liverpool endured relegation in 1954, they managed to shave over 10% off their support during their first season in the second tier. And in case you're thinking that smaller teams who pay a brief visit to the top division fare better, given their supporters' familiarity with rougher times and thus what is again generally assumed by so many to be a greater resilience among them, think again. The evidence suggests that these clubs tend to pull a load of supporters out of the closet during their brief encounter with the big time who quickly depart when relegation occurs and mundane reality kicks in again.  Consider the cases of Bradford City in 1995 (14% of their support didn't return the next season), Burnley in 2010 (over a quarter of their support deserted them on return to the championship) and Northampton in 1966 (in the year following their single season in the top division, a third of their fans found other things to do on Saturday afternoons).  Oldham Athletic also shed a third of its support when dropping down a division in 1994, while Swindon lost over 40% when returning from whence they came in 1994, and Carlisle said farewell to a similar number after their excursion to the top division in 1975.  And the most fickle of the lot?  Bristol City, who in 1980 were relegated from the top division and lost a mammoth 52% of their average crowd in the process.
The romantic image of the support of small clubs remaining resolutely with them through thick and thin is nonsense.  United's fans are conspicuous in the strength of their support whatever fortunes befall their team, something that only clubs with a certain defined aura and comparable attachment to style can get close to emulating. It's often been said by United fans that the true intensity of our support comes out in times of difficulty and I believe that's true, tying it as it does with the peculiar attachment to pariah status we so enjoy.  Amid the disappointment of a defeat, I always experience a peculiar sensation of my attachment to the reds strengthening even further and it also seems to me that, when making my way along with thousands of others across Trafford Bridge and into Salford following a disappointing outcome, there's a conscious swell of increased devotion to the club hanging in the air around us.  This is one reason why, if we're going to have a bad result, I'd rather be there at the ground rather than watching it on the telly. The communality of the experience is overwhelming and in its own very singular way uplifting.
Of course, the figures cited above rarely get referred to by a media that is only too contented with the stereotype of United's supporters as fat cats who are only happy when there's a full bowl of cream in front of us. They happily alight on the idiotic views of those armchair glory hunters who've only attached themselves to our club for shallow reasons and waste no opportunity on forums and phone-ins to tell us that Moyes is taking the club nowhere and unless we buy Fabregas, Ozil, Ronaldo and Usain Bolt in the January transfer window, they're getting their coats.
Good riddance to them. Such individuals have no connection with the true spirit of my club and I could almost tolerate three years or so without winning anything just to see the back of them. Should this happen (and I don't believe for a moment it will) I guarantee that you'll hear the Old Trafford support getting behind its team as passionately as ever because they are, and always have been, the true voice of Manchester United.
(Information and statistics on supporter loyalty can be found in my book A Deeper Shade of Red, from which the above extract has been adapted.  The book is available in paperback here and for Kindle here.)
Enjoy that? Give it a share!