After last weekends disappointment a win against the old enemy Liverpool midweek was much needed. The performance was good and was the best way to recover from what can only be described as a "thrashing". This weekend signals the start of a much easier run of games for the United team. Last seasons result of 5-5 is unlikely to be repeated, but Moyes will be looking to perform well and score goals to appease the fans.
After a much improved performance on Wednesday night I would expect David De Gea to retain his place in goal. The clean sheet will also have helped the young Spaniard recover from conceding four against the local rivals.
The defence failed to change much in the first five games of the Premier League season with the exception of the right back position, this week however I would expect Rio Ferdinand to be rested again. After missing out on the Capital One fixture against Liverpool, his absence may continue making way for Jonny Evans. Wednesday night was important for Moyes as it allowed him to see the ability of his squad that haven't had the chance to perform just yet. Evans seemed to take that chance, after taking the first half to settle in he took control of the defence in the second half and I would expect him to start on Saturday.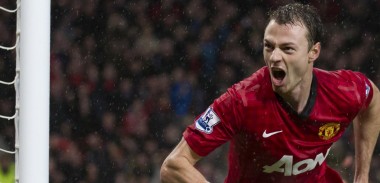 Partnering Evans I would expect the club captain to retain his place. Vidic underperformed last weekend but it'll be hard to see him missing out this weekend. After his performance on Wednesday night Rafael should return to the team with Patrice Evra completing the set.
The burly Belgian Fellaini should return to the centre of midfield, partnering him I would expect to be Michael Carrick. Moyes may elect to give the midfield pass-finder a rest, but I find this unlikely as he searches to get some important points on the board. Nani is the only name that makes sense to me to play on the right, after a good return to the first team in the midweek it would seem strange for Moyes to leave him out of the first team. The left is more of a question with Young, Kagawa and Welbeck all possibilities to start. Young has been given chance by Moyes up until now but with Kagawa and Welbeck both making strong claims to a start it will be hard to see Young get the shout.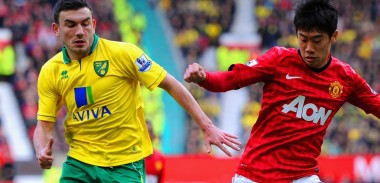 My guess is that Kagawa may get the call, a lot has been made about whether or not he is in the plans of the new manager but I think performances against Bayer Leverkusen and Liverpool will make Moyes think twice about overlooking the former Bundesliga Player of the Year.
Until now Moyes has been firmly against straying for a 4-4-2 formation and with the opposition this week being weaker than what has come before, it's unlikely that now would be the time that he would choose to turn to a 4-5-1. With that said it comes down to who will lead the line as Wayne Rooney has been in such form he has made himself undropable. Wayne seems to have improved with every game this season and will surely be looking to stake more of claim to being the number one striker at the club.
Partnering Rooney up front may be Robin Van Persie, this seems unlikely as a starting role though as Moyes has said, "Robin will be back involved somewhere, whether we use him or whether we don't, he has trained today and is back fit." My guess would be that with a trip away to face Shaktar Donetsk midweek, Van Persie will be rested and an alternative will be chosen. The other options are Chicharito and Welbeck, I will forever be a Welbeck fan as he embodies what I want to see in the United first team because he works so hard, appears to care so much and has more than enough talent to make a difference. With that said I would still think that Moyes will start with Chicharito, the magnificent
Mexican performed superbly on Wednesday when he made his return to the United first team. Scoring a goal that ultimately decided the game was the icing on the cake and exactly the message that Chicharito will have been hoping to send to Moyes.
De Dea;
Rafael, Vidic, Evans, Evra;
Nani, Carrick, Fellaini, Kagawa;
Rooney;
Chicharito
This weekend will hopefully be and should be a strong win for the Red Devils. A home game against a team that has done anything but set the league on fire this season to me means that United should be taking home the three points this weekend. I will certainly be keeping an eye on the result at the new Scores Website.
Who do you think Moyes will start against West Brom? Comment in the section below.
Enjoy that? Give it a share!