Manchester United 1 Liverpool 0
This wasn't a performance that will remove all doubts about United's ability to compete for major honours this season; it was, however, one that had all the fire, determination and spirit that was so horribly absent at city on Sunday and that showed, if we ever doubted it, that rumours about the demise of United have been grossly exaggerated.  However much second half pressure the Reds had to soak up, however last-ditch the defending had to be at times, the team had that familiar edge of a United side who simply weren't going to relent once we'd taken the lead.  'Play like Fergie's boys' the Stretford End entreated David Moyes' team, and they did.
This was a typically passionate United-Liverpool encounter, a far cry from the dour contest at Anfield earlier in the month and with thankfully a different outcome too.   Moyes had selected a strong side, although one featuring few survivors from the Etihad debacle, and it set the frantic tempo of the match from the off, with Rooney and Chicharito taking the fight to the Liverpool defence.  It wasn't long before Liverpool began to get more of the ball, however, and the central defensive partnership of Jonny Evans and Chris Smalling were increasingly called upon to marshall the United rearguard in a manner that would become familiar as the game went on. So far things were
looking promising for those who had backed United at betting sites like Bwin.
United started brightly in the second period and, with the half less a minute old, Chicharito took advantage of slack marking in the opposition defence to steer home Rooney's corner with a close-range volley.  It was a classic Chicharito right-place-right-time finish and gave United a vital advantage they refused to yield throughout a second half in which the away team secured the majority of possession.  United did get further chances chances to double the lead: two fell to Nani, who fired over the bar, while a fizzing shot from Kagawa got closer but still landed in the Stretford End.  Liverpool were being similarly wasteful in front of goal until a Moses header was saved brilliantly by De Gea at point blank range just before Suarez, making his return following his lengthy suspension before an inevitably hostile home crowd, hit a deflected free kick against the United bar.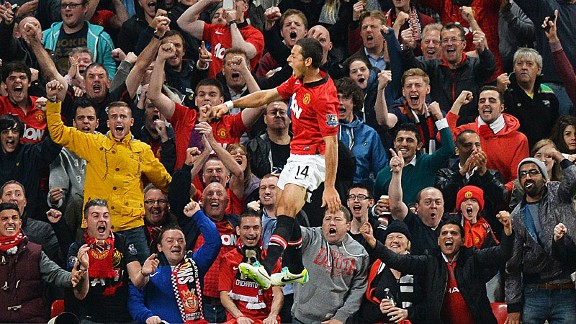 Although Liverpool continued to press, that was the closest they came to equalising and, after that, it was Rooney who came closest to adding to United's tally, a free kick and then a shot from outside the area both forcing fine saves out of Mignolet.  United's substitutions brought another promising cameo from Adnan Januzaj, a player who looks more and more deserving of a first team start every time he walks out on the pitch and further resilience in central midfield and defence saw out the remainder of the game to the kind of crescendo of noise you wish Old Trafford could produce more often.
The United match-going fans made clear its vociferous support for David Moyes throughout the game, giving strength to my assumption that the majority of United 'fans' who keep getting on his back in the various forums and social media I inhabit probably don't see the inside of Old Trafford very often, if at all.  Those that do will appreciate most the battling qualities the team showed in this game.  The willingness to fight for United was strongly evident on the pitch and in the stands and hell, did it feel good to be there.
Enjoy that? Give it a share!