Given the tricky nature of United's early fixtures, my own feeling was that 11 points from the first five games would represent a decent start to the season.  Sadly, defeat at Anfield now makes that an impossible objective.  Liverpool won with a goal after only four minutes against a ragged, nervy United who only sporadically threatened an equaliser and were far too often prone to misplaced passes and unforced losses of possession.
Let's be frank first of all and admit that this Liverpool team is a much better outfit than the one that spluttered its way through last season, though certainly not as good as we made them look.  Rodgers has got rid of some seriously dead wood bequeathed him by his vastly overrated predecessor and the team he put out today looked, from the first minute, energetic, organised and not without a killer punch.  They demonstrated this within the first four minutes where a combination of Liverpool's pressing and Ashley Young's dwelling on the ball at the edge of his own area led to a corner from which Sturridge nodded home from a few yards.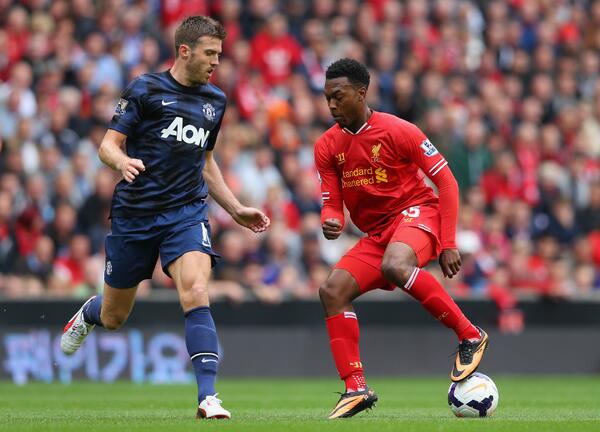 We can point to Ferdinand's failure to challenge Agger's first header in the area but the wider concern was how United's uncertain play in our own half led to the corner in the first place.  It was representative of United's performance overall and certainly in the first forty-five minutes, where ponderous play at the back allowed Liverpool to push on and influence too many rushed clearances and hasty, misjudged passes.  When United got into the opposition half, too often the play was rushed and erratic, only Giggs showing any real composure on the ball in a midfield where otherwise Liverpool were first to every ball and Carrick was never permitted the space to influence proceedings.
While United enjoyed more possession in the second half, only rarely did we threaten Liverpool's defence.  Van Persie looked strangely out of sorts and, even when the service to him improved after the break, the intelligent movement that can normally find and create gaps in the tightest defensive set-ups just wasn't there.  Too often we resorted to shots from outside the area with only one, a fierce effort from Nani, who came on as a second half substitute for the once again ineffective Young, forcing a genuine save out of Mignolet.  Chicharito came on as a late sub and provided some spark up front and it was his pass that put Van Persie through just a few minutes from time.  So often deadly in those situations, RVP failed to hit the target, his skewed shot going tamely wide of the near post.
Inevitably, the hype surrounding Liverpool so far this season will hail this as further evidence of an Anfield resurgence.  They'll be over-stating the case, as usual, but what can legimitately be said is they kept their shape and composure, stuck to a game-plan and ultimately deserved their win.  A better United would at least have got something out of this game, though, and the concern – ahead of what may well be the most frenetic transfer deadline day in recent history – will once again turn to how United failed for so much of this encounter failed to control the midfield against well-organised but hardly top class opposition.
What did you think of United's performance? Comment in the section below.
Enjoy that? Give it a share!