Cristiano Ronaldo returning to Manchester United has been the rumoured story from all media outlets over the summer, but yesterday Ronaldo dropped the biggest hint that he is to stay in Spain with Real Madrid.
Ronaldo made a surprise visit to Crest Secondary in Singapore on Wednesday afternoon for a Q+A and also to show off his footballing skills in front of 200 very happy children.
The Portuguese winger and supermodel girlfriend Irina Shyak, made a flying visit to support the Singapore Olympic Foundation-Peter Lim Scholarship, which supports needy young athletes.
During the 30-minute session, he told youngsters how he turned into the world's most expensive footballer and to answer various questions about his career on stage, even showing off with a few tricks in the process.
Cristiano Ronaldo was accompanied by his girlfriend, Russian model Irina Shayk, and Singaporean billionaire Peter Lim who was also at the Crest Secondary school.
The following quotes from Ronaldo's visit to Singapore are from Today Online.
Most of the students wanted to ask him:
"Why are you so good at football."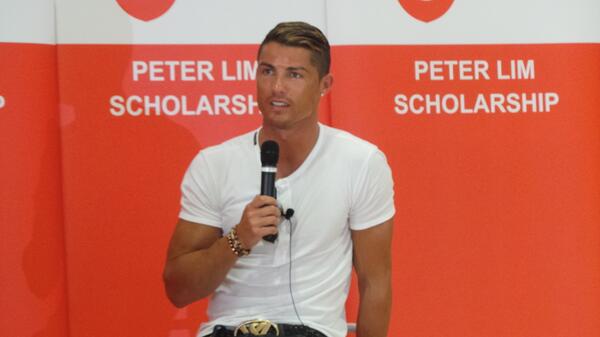 The reply from Ronaldo was simple:
"I train hard, if you want to be the best, you've got to train like the best.

"Believe in yourself and don't be afraid of anything"
As more questions came in from students, the topic soon moved to his Manchester United days in which Ronaldo replied:
"I really miss my time in England and Manchester United, but I'm very happy at Spain and Real Madrid."
Enjoy that? Give it a share!