Give David Moyes a chance at United
So the #moyesout hash tag is already being chucked about more than a Craig Bellamy contract and my Facebook page is full of messages from 'Friends' telling me the end of United is nigh and predicting the kind of fallow period normally only brought about by a biblical plague. All because the United board have, with allegedly indecent haste, gone not to Madrid or Dortmund for our next manager, but to unglamorous – in modern times anyway – Everton.
Of course, David Moyes is officially still in charge at Goodison Park and won't be starting at Manchester United until 1 July 2013. It barely needs to be pointed out that he hasn't had time to do anything to do anything wrong and yet already he's being hailed as the new Wilf McGuinness by many Reds.
The arguments in support of these judgements appear to come from three directions. One, Moyes doesn't have any kind of track record, never having won a major trophy or had any significant European significance: we were expecting someone at the level of Mourinho or at least Klopp and only ruled out Guardiola because Bayern already have him. Two, his playing style at Everton isn't terribly easy on the eye, at worst turgid and dull and at best solid and pragmatic. Three, his evident lack of charisma or 'big name' status – more arrows pointing to Mourinho here, although there are clearly still many others in front of Moyes in this particular pecking order.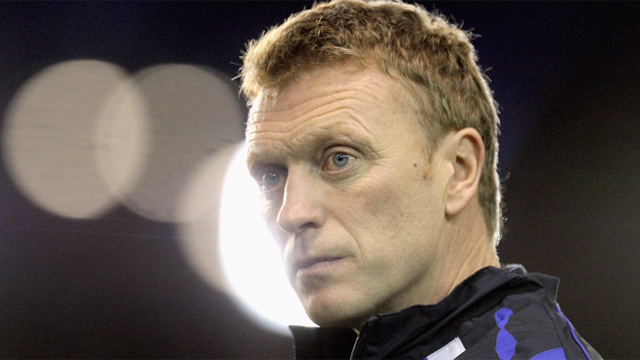 I can see some logic to all of those objections, but we need to ask ourselves what the realistic options were. Mourinho himself doesn't have a reputation for playing scintillating or imaginative football and he and many of the other top international names being mentioned do not have experience of managing a club like United.  And the names above are head coaches rather than managers in the United mould. We have, from Busby onwards, always required our managers to manage every aspect of the club and not simply the playing side. So to bring in a Mourinho or Guardiola figure would either mean putting them in a job they've never done before or restructuring the entire club to accommodate them. Both of these would be potentially disastrous in the long-term. At least if Moyes makes a pig's ear of things the structure around him will still be in place and we can move on. Add this to be the fact that Moyes, unlike the other names mentioned, has a chance to make his reputation with United as opposed to simply collect another big club in an ego-driven ride around Europe and I become more and more convinced by the decision.
Unlike the above options, Moyes has at least managed a club from top to bottom before, and done so with dignity and respect for his club's traditions. Mourinho, for all his many qualities, has no record for this, either being responsible for clubs without any tradition (Chelsea) or rubbing people up the wrong way at those that do (Inter and Real Madrid). We'd have had to allow such a figure the free rein to rip up every aspect of our club's structure, built up over decades by Ferguson, in the full knowledge that he would almost certainly be on his way somewhere else after a few years. Moyes has shown loyalty to Everton and refused several offers to move on despite the financial straitjacket he's had to work in: there's every sign he'll show a similar level of loyalty to United and that, like Fergie before him, he's come to United out of a genuine passion for managing our club and not simply out of a desire to further his own managerial CV.
My own preferred scenario for when Fergie moved on would be that a former player would take the helm, someone grounded in the ways of United and with a reasonable managerial pedigree to suggest he could make a decent fist of replacing a frankly irreplaceable manager. Unfortunately, there are just no viable candidates. I hoped a few years ago that maybe Brucie would emerge as such a figure but, although he's done some good work at Championship level, he's not proved himself able to operate successfully in the Premiership. I hoped that perhaps we'd get three or four years more from Fergie, at which point Solskjaer would have moved from his successful stint at Molde to gain some experience in a top European league, but this has come too early for that.
I suspect the truth is that none of us can have what we really want: Fergie to carry on.   Because that vision of the near future has been cruelly denied us, many of us are clutching at any straw possible to denounce the succession.  Thus, there are allegations that Moyes has been picked for the job only because of Fergie's friendship with him or because of his Scottish accent, overlooking that there are many other potential candidates who share either one or both of these attributes.  For those with the first, it's inconceivable that the board would have gone for, say, Allardyce or Pulis because, for all the qualms raised about Moyes' approach to the game, few would accuse him of having a penchant for the ugly game as perpetrated by those two.  And it's not as if there are no other Scottish candidates: Steve Clarke or Paul Lambert would have been equally ludicrous choices.   The fact is, being Scottish has nothing to do with it: Moyes shares far more important attributes with our present manager than nationality, and they include tenacity, a willingness to stand by his judgements and by his players, an impressive work ethic and a no-bullshit approach to the job.
In the end, to claim Moyes only got the job because of his Scottish accent is to cast aspersions not on his judgements, but on Fergie's. Moyes is SAF's last signing: as with many others, he may well prove to have pulled off a masterstroke that so many Reds didn't seem coming.  Many of those who are questioning this final decision of the greatest manager the game has ever seen are of the same ilk as those who saw a missed opportunity when Dwight Yorke was signed, failed to see the promise of David De Gea or who questioned the wisdom of spending the money in an enveloped marked 'For Ronaldinho' on a teenager called Cristiano Ronaldo. Of course, Moyes would be another David Bellion or Liam Miller. We don't know, but I've learned over the years that giving Fergie the benefit of the doubt is usually the most sensible approach and I don't believe for a minute he'd put in danger the great club he's built purely out of loyalty to a fellow Scot.
In time we'll know, but for now I'm not going to join the latest bandwagon surrounding the decisions of the greatest manager any of us will ever know. Those are big boots to fill, so let's at least give him a chance to put them on.
Over to you, David. Welcome to United.
Enjoy that? Give it a share!