Mike Dean has been appointed to referee the Manchester Derby next week at Old Trafford. News that Sir Alex Ferguson might not be all happy with….
Manchester United are currently 15-points ahead of Manchester City and can pretty much collect the Barclays Premier League title if they beat the blue side of Manchester next Monday night at Old Trafford.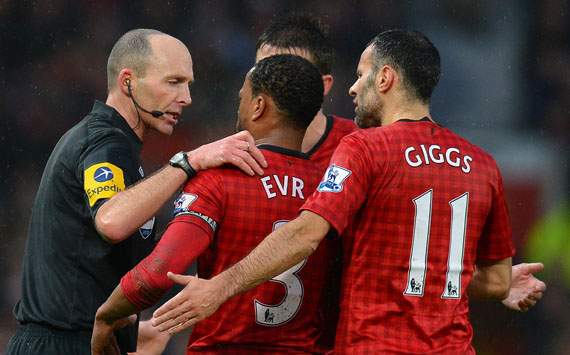 The last time that Mike Dean was the referee at Old Trafford, Sir Alex Ferguson narrowly escaped FA action after comments made after seeing his side beat Newcastle United 4-3.
Ferguson said back then:
"The referee changed the linesman's mind.

"He said it was an own goal. But if you see it again, and the referee can't, the guy is in an offside position, then he pulls Evans' arm.

"If that is not interfering, what is? I think it was a bad decision."
Not only that but Sir Alex Ferguson and Mike Dean have come to blows more than once in the past.
In 2010 Mike Dean was demoted to Championship fixtures after an erratic performance by him and his assistance during United's 2-1 defeat to Chelsea.
After that very game Sir Alex said:
"When I saw it was Mike Dean I did worry, I have to say."
Enjoy that? Give it a share!