David Beckham signs for Paris Saint German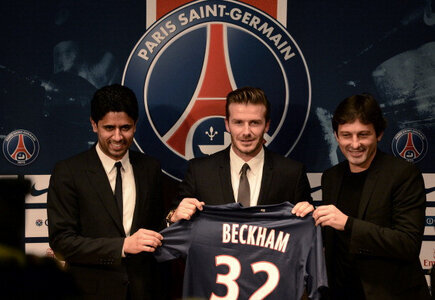 David Beckham has stated today after signing for Paris Saint German that he could not play for any Barclays Premier League side other than Manchester United.
Beckham said:
"I was successful with Manchester United and I have always said I would not want to play for another English club because I have a lot of history with Manchester United, it is the team that I support, a team I always dreamt of playing for and I always said that unless it was Manchester United I would not want to play for any other Premier League team.

"I am honoured by the offers I had from the Premier League teams but I did not want to play there unless it was Manchester United."
Beckham joined Paris Saint Germain on the last day on the transfer window in January.
He went on to say:
"I have a lot of experience in the game. I am 37, I have won trophies throughout my career and played for some of the biggest clubs in the world with some of the best players in the world and am still successful.

"I am still fit. I can run around and can still play like I could at 21. I have not lost any of my pace, as I never really had a lot of pace throughout my career."
Enjoy that? Give it a share!