West Ham United manager Sam Allardyce accused Phil Dowd of being bias towards Manchester United on Wednesday night after his side lost 1-0 at Old Trafford.
Allardyce could be facing FA action after his comments, he was outraged by his side not being awarded a penalty after Rafael Da Silva appeared to have handled in the box.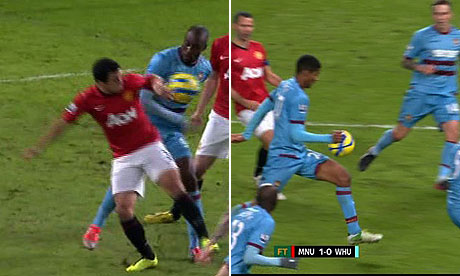 Manchester United were award a penalty after a fantastic run from Ryan Giggs ended with West Ham's Jordan Spence handling in the area.
Allardyce said after the match:
"There was no doubt whatsoever about the difference between Rafael's hand ball and Jordan Spence's. Jordan Spence plays for West Ham away against Manchester United and Rafael plays at home at Old Trafford. It's got to be that simple when you see it. Phil Dowd was in the perfect position. Arm to ball, he [Rafael] pushes the ball away with his left arm. No penalty.

Go the other end and the ball hits Jordan Spence's hand. If you give one, you have to give them both. Simple as that. You've seen it for yourself and you can look at the replay as many times as you want. We have a laptop and code the game. I've looked at his position for the Rafael one and it is perfect – straight in line with it, right in front of it. He had a worse position than Jordan Spence's.

"We are very disappointed we are not given a penalty which is blatant and clear for the referee to see. He couldn't find the courage to give it."
Enjoy that? Give it a share!