Manchester United v Arsenal Match Preview
After a thoroughly entertaining if ultimately disappointing encounter against Chelsea in the Capital One Cup on Wednesday night, the Reds turn their attentions back to the Premier League as they take on Arsenal in the lunchtime kickoff on Saturday. Last season, United did the double over the Gunners, winning 2-1 at the Emirates and thrashing them 8-2 in a remarkable early-season affair at Old Trafford. With United taking the chance to rest a number of starters for Wednesday night's game – none of Ferdinand, Evans, Evra, Young, Carrick, Cleverley, Scholes, Valencia, Rooney and van Persie were even on the bench – the players should be fresh and eager to carry on the momentum gained by finally ending the Stamford Bridge hoodoo in the league last weekend.
Manchester United
The manager opted to scrap the midfield diamond for the Chelsea game on Sunday instead playing with the traditional two wingers that is etched in the United philosophy. And the decision paid dividends; at least for the opening half hour before the same old central midfield problems returned as Carrick and Cleverley found themselves overrun and outnumbered. Still, although Arsenal play with a three-man central midfield, their obvious defensive frailties should persuade the manager to stick with the same formation we saw on Sunday.
Although Anders Lindegaard started in midweek, David de Gea should return to the starting eleven at the weekend. Having started the last three Premier League games, it seems that the manager has decided that de Gea is his number one and the Spaniard, much like last season, seems to be benefiting from this knowledge turning in an excellent, if slightly unorthodox, performance at Stamford Bridge on Sunday. His save from Torres's header minutes before half-time was a perfect example of a save that United fans have come to expect – and don't have a right to – from the Spaniard.
The back four is pretty much set in stone at the moment and so Rafael, Evans, Ferdinand and Evra should all start on Saturday. Rafael was superb in both games against Chelsea although having played the full 120 minutes on Wednesday night, I can't be the only one worried that the Brazilian will be affected by fatigue. However, being so young – he's still only 22 – hopefully he won't be affected by the gruelling run of games. Although Alexander Buttner doesn't really look like he will ever develop into a starter at United – it was a rash challenge by him that conceded the first Chelsea penalty – one benefit of his signing is that it enables the manager to give Patrice Evra a rest from time to time. However, I can't help thinking that the United would have been better off not signing the Dutchman and instead keeping Fabio as backup to Evra.
Even with the absence of Shinji Kagawa through injury, the manager has a wealth of options in midfield and so it's almost impossible to hazard a guess as to who will start on Saturday. Carrick, Cleverley and Scholes were all rested in midweek surely with the Arsenal game in mind. In fact Scholes didn't play in the league game at Stamford Bridge either which makes you think he will be involved on Saturday. Having said that, both Ryan Giggs and Anderson
pressed their claims for a starting spot having played magnificently on Wednesday night. The Brazilian in particular turned in a performance full of energy, drive, enthusiasm and skill and was involved in United's first three goals. I've been surprised at how little he's played this season given that when he has played, he's played well and for my money he offers more than Cleverley to the team.
Out wide, Antonio Valencia and Ashley Young should start on Saturday and it remains to be seen whether Nani will even make the bench giving the manager's decision to single him out for blame in the aftermath of Wednesday night's defeat. Both the good and the bad sides of Nani were on display on Wednesday. Yes, he has an infuriating tendency to overplay at times but let's not forget the pretty much unmatched ability he has to produce moments of magic; an ability highlighted by United's third goal. Starting the move by delightfully flicking the ball over Ryan Bertrand's head and beating Oriol Romeu inside his own half, the Portuguese wideman then finished the move by playing a quickfire one-two with Anderson before delightfully dinking the ball over Petr Cech. It was pure quality and moments like that make me hope that the Portuguese international doesn't leave in January.
In the striking department, it appears as though Javier Hernandez will have to settle for a place on the bench despite a very welcome return to form with four goals in his last three games. Wayne Rooney and Robin van Persie should reprise their partnership and all eyes will inevitable be on the Dutchman following his move to Old Trafford from the Gunners this summer. Who knows, perhaps it was Arsenal's 8-2 defeat to United last season that persuaded van Persie that United were the club for him. The Dutchman will certainly face a lot of stick from the Arsenal fans who can't get their heads around the fact that players who leave the club are not necessarily doing it for more money but perhaps because they actually want to win trophies (and no Arsene, qualifying for the Champions League doesn't count as a trophy). Still, after United fans have rightfully been condemned for distasteful chanting aimed at Arsene Wenger in recent years, I wait to see whether the media and Arsenal themselves will take such a dim view of the sick chants van Persie will face from the Arsenal fans on Saturday.
Predicted XI: De Gea, Rafael, Ferdinand, Evans, Evra, Valencia, Carrick, Anderson, Young, Rooney, van Persie
Arsenal FC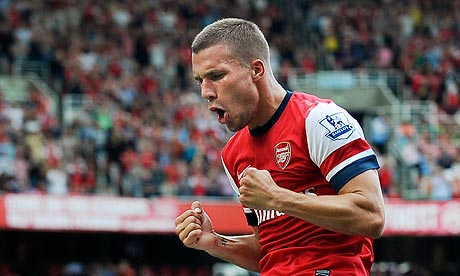 The Gunners started off the season impressively, taking 8 points from their first four games however their form has dipped of late. They've suffered 2 defeats in their last 5 games in all competitions – to Norwich and Schalke – although they may be buoyed by their stunning comeback from 4-0 down to beat Reading 7-5 after extra-time in the Capital One Cup on Tuesday evening.
After keeping three consecutive clean sheets at the start of the season, many pundits attempted to convince the public that this new-found defensive solidity was here to stay and attributed it to Steve Bould's work as defensive coach. However, those claims have gone quiet in recent weeks as the defensively dodgy Arsenal we all know and love has returned.
One positive note for the Gunners on the defensive side of things was the return of Bacary Sagna from injury against QPR last weekend; a game Arsenal didn't look like they would win until Stephane M'Bia's moment of madness which saw QPR reduced to 10 men.
The media favourite Jack Wilshere also returned from over a year out against QPR and so we were unfortunately bombarded with pass completion stats – they don't mean anything – to show us how good Wilshere was against QPR. There's no doubting Wilshere is a good player and one with immense potential however as with any young English player the media can't resist the temptation to go overboard in the assessment of their ability. As one of my mates said, such is the media love-in for young Jack he wouldn't be surprised if the "journos and pundits go home and blurt out Wilshere's name when they're f***ing their wives." An apt assessment I thought.
One player who perhaps hasn't received the praise he's deserved this season is Mikel Arteta who has gone about his job quietly but ever so effectively; breaking up the opposition's play and keeping things ticking over for the Gunners. His compatriot Santi Cazorla has also impressed and the Reds will have to be on their toes when he's on the ball given his ability to thread the ball through the smallest of gaps. Frenchman Abou Diaby was in imperious form at the start of the season, conjuring up memories of Patrick Vieira before succumbing to another one of those niggly injuries that have dogged his Arsenal career. However, there is an outside chance that Diaby may be fit for the game on Saturday.
Up front, Arsenal have struggled for goals this season with neither of their summer signings, Olivier Giroud or Lukas Podolski, contributing consistently in terms of goals. One could say they are missing a certain Dutchman whose name sadly escapes me… Theo Walcott hasn't started many games for the Gunners this season after negotiations over a new contract stalled although his integral role in their comeback against Reading may have been enough to earn him a place in the starting eleven on Saturday. The Ivorian international, Gervinho, misses out through injury although many Arsenal fans may see that as a blessing in disguise.
Predicted XI: Mannone, Sagna, Mertesacker, Vermaelen, Jenkinson, Arteta, Wilshere, Cazorla, Walcott, Podolski, Giroud
Having come away from Stamford Bridge with all three points last Sunday, United will be confident that they can continue their run of good form and gain maximum points once again on Saturday. After Saturday's game, the Reds have an eminently winnable run of games coming up as they face Aston Villa, Norwich, QPR, West Ham and Reading before travelling to the Etihad in early December. Therefore, the players and manager will know that if they can win this game, they have a real chance of stringing a long run of wins together.
Looking at the recent history between the two clubs, the Reds should be confident of victory on Saturday having won 5 out of the last 6 against Arsenal in the Premier League. The last time the Gunners won at Old Trafford was in September 2006 when a solitary strike from Emmanuel Adebayor five minutes from time gave victory to Arsenal. With both sides shaky defensively, another goalfest looks like it's on the cards and after the Reds thrashed the
Gunners 8-2 at Old Trafford last season, they will be confident of coming out on top once more; especially since van Persie is now plying his trade with them rather than Arsenal.
---
Manchester United vs Arsenal Promo

Enjoy that? Give it a share!