Manchester United notched up a second win in the Champions League group stages this season thanks to a brace from Robin van Persie, with both assists coming from Wayne Rooney.
Perhaps as a reaction to United's lack of midfield dominance at the weekend, or perhaps because we were away in Europe, Sir Alex altered the standard 4-4-1-1 formation from recent games into 4-3-3 with Fletcher sitting at the base of a midfield three that also included Anderson and Cleverley, whilst Rooney played the link up role from midfield, sitting behind Robin van Persie and Hernandez.
My chief concern with the formation was whether Rooney would have the patience and discipline to play the AMC role rather than trying to do too much and act as a third striker, therefore leaving a gaping hole between midfield and attack, however my fears were unfounded as Rooney played the role Kagawa has been trying to make his own, almost without fault.
The starting line up saw Rooney and Robin van Persie start together for the first time, and a Champions League debut for Tom Cleverley who was injured during the Reds' brief spell in the competition last year.
United dominated the opening 10 minutes, helped by Cluj' refusal to push out much beyond their own box in a plan that frustrated Hernandez as there was no space for him to run in behind, and also Van Persie as he too was denied the space just in front of the opposition back for that Hernandez' runs create.
Then, just as has happened three times already this season against Fulham, Southampton and Spurs respectively, United conceded a woeful early goal. A long diagonal ball from the left side of the midfield was played over the head of Patrice Evra whose positioning was suspect, and lack of effort to close Moudou Sougou down, downright criminal. Sougou was allowed to play a low cross into the box where somehow Kapetanos managed to time his run past Evans and stroke the ball past De Gea. While Evra and Evans must share the blame for the goal Sir Alex referred to as 'a shocker, an absolute shocker', the fact that our defence allowed yet another unmarked attacker to stroll into our box and score, just as Dempsey did for Spurs' third at the weekend, is especially displeasing to fans and coaching staff alike. The mistakes being made are with the very fundamentals of defending – marking and tracking runners and cannot be allowed to continue.
United equalised in the 29th minute as Rooney floated a free kick into Cluj' box for an unmarked (perhaps the Cluj defenders have been studying us too hard!?) Robin Van Persie to 'shoulder' over a forlorn Mario Felgueiras.  In truth it was no more than United deserved despite the fortunate nature of the final touch.
Sir Alex made no changes at half time, but seemed visibly annoyed (good) at the defending when questioned on tv during the half time break. United started the second half much like they finished the first with almost complete domination of possession and chances and once again it was the Rooney to van Persie combination that proved fruitful as the scouser floated an inch-perfect ball forward for the Dutchman to nudge past Felgueiras on the bounce in the kind of combination play that will have United fans salivating at the prospect of further starts together for their two stars. Rooney and van Persie scored 75 goals between them for their respective clubs last year and with his two tonight, Robin is already up to 7 this season.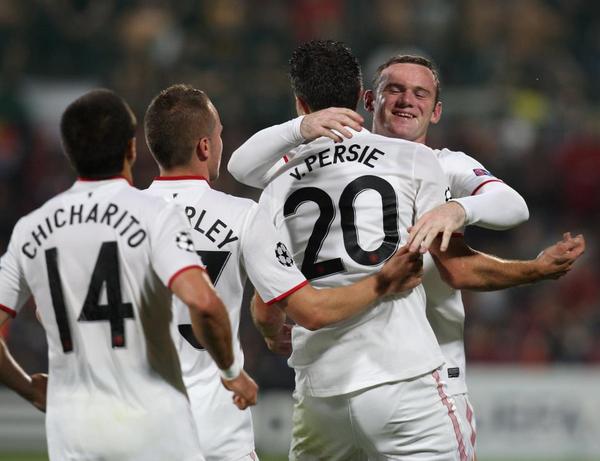 Realising they now had licence to attack, Cluj pushed forward tentatively, forcing an excellent save from De Gea on a close range header, and another brilliant save in injury time down low to his left to safe-guard all three points, once again proving his should be United's number one choice (as argued here).
United pushed on for the rest of the game, replacing Evans, who looked less than 100%, with Scott Wootton late on and the ineffective Hernandez with Danny Welbeck, but ultimately looked good value for a game they were always expected to win, and save for one horrendous mistake, largely dominated.
---
Match Highlights: Cluj 1-2 Manchester United

Enjoy that? Give it a share!