Manchester United crashed to a second league defeat of the season by losing 3-2 to Spurs at home in the very definition of a game of two halves.
Sir Alex rotated keepers AGAIN, bringing Lindegaard back into the starting line up behind a back four of Evra, Ferdinand, Evans and Rafael. Ferguson started a midfield of Nani, Carrick, Scholes and Giggs with Kagawa playing in behind Van Persie up front in the usual 4-4-1-1 formation.
It's difficult to attempt to rationalise our midfield selection yesterday when it was obvious Spurs would pack their midfield with five energetic youthful pacy players. Playing both Scholes and Giggs hasn't worked for at least two years now, even when playing them as a central pairing, LET ALONE when you throw Carrick into the mix and expect Giggs to play left wing!? Naturally, Giggs drifted inside, meaning for the first half we had no left-side and therefore attempted our few attacks down the right in a predictable and easy-to-defend-against manner – regrettably this was far from our biggest problem however.
Spurs' opener was fortunate in some ways as Jan Vertonghen's shot was deflected off Jonny Evans just a few yards out to give Lindegaard very little chance at saving it, however it was the way that United were set up that allowed the defender to run 30 yards into our box and shoot from 8 yards out. The benefit of Tottenham's extra man in midfield allowed Bale and Vertonghen to play a triangle past Nani (who should have chased down the Dutchman with more viger afterwards) and then drive into the box. Defoe did his job wonderfully by pulling Rio Ferdinand out of Vertonghen's path giving Jonny Evans no choice but to leave his man in the middle and attempt to block the shot. United were quite simply overrun and underprepared for an attack from a defender that no one was marking.
If the visitor's opener had a touch of luck about it, their second was pure class. Gareth Bale received the ball 5 yards into United's half, powered past Ferdinand and slipped the ball past Lindegaard with ease, although i'm of the opinion the keeper should have done better, and perhaps De Gea, being a far superior shot stopper, might have. Far from the solo goal it appears, Bale was helped immeasurably by an extremely intelligent run again from Defeo, dragging Evans this time out of the way to give Bale the space to drive into. Of course we wouldn't expect Rio to be able to keep up with Bale, but the point is that the system is once again to blame. It should be obvious to anyone with a passing interest in the Premier League that Spurs would target our ageing centre half with their fastest players (Bale and Lennon) therefore Sir Alex should have mitigated the risk of this occurring by playing five midfielders with some dynamism (Anderson after his midweek goal scoring performance anyone??) to protect against these type of runs and attempt to stop the supply to Bale in the first place. Regardless, the word is out now, so expect every top team we play to try the same tactic, hopefully with less success.
The rest of the first half was just as bad but forgettable save for a dreadful looking challenge on Robin van Persie from former teammate William Gallas. The tackle was bad enough it itself, but the resulting break in play provided the opportunity for the visting Spurs fans to crack out their song book at former Gunner RvP including 'He rapes who he wants, he rapes who he wants, Robin van Persie, he rapes who he wants' and 'She said no, Robin, she said no, oh Robin she said no'. Not the sort of thing i'd usually mention in a match reaction but shouldn't we deplore these chants just as much as the Hillsborough/Munich ones? I sit the width of the pitch away from the away fans section and these chants were clearly audible. The journalists sit about 40 rows away from them on the same side of the ground, much closer, yet has any journalist mentioned these chants? Has a massive fuss been kicked up? Have these Spurs' fans been demonised and castigated from all corners? Have they f**k. It seems distasteful chanting is no longer on the media agenda when there isn't a big game to hype up at the end of the week.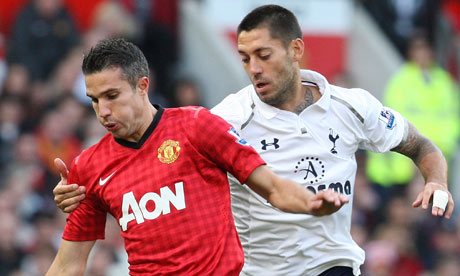 Boos rang out around Old Trafford at the half time whistle, suggesting some of the ground's clientele would (should) have been more at home watching WWE wrestling, rather than failing entirely to grasp the concept of being a supporter.
Mercifully, Ferguson put Giggs out of his misery by substituting him for Rooney at half time, and the change in the team was almost immeasurable. Much like when Sir Alex replaced Gary Neville at halftime at Stoke away the season before last when he looked totally off the pace and was lucky to not have been sent off, this should signal an end to Giggs' place in games against opponents of this quality.
United took just 5 minutes of the second half to look all together more potent that they had for the entire preceding 45. Rooney whipped a cross in from the right hand side, and Nani got across his man to nudge the ball past Brad Friedel. Perhaps sensing the now traditional come back against Spurs, the crowd livened up instantly. In truth, the atmosphere in the second half yesterday was the best it's been for over a season, since we beat Chelsea at home at the end of the 10/11 season to seal the 19th title and more people stayed to the end than when we're playing well and winning which is just bizarre.
The joy was to be short lived however as Spurs hit back just 90 seconds later as Defoe tied Ferdinand up in knots whilst Gareth Bale waltzed past Rafael and then received the ball, unleashing a wicked strike at Lindegaard who could only parry it into the path of Clint Dempsey for an easy tap in. @thedevilstweets and i looked down from our seats in complete disbelief that our back four would let Dempsey float on to the penalty spot alone. Firstly, yet again, i think Lindegaard should have done better, palming the shot to anywhere but across the face of goal. If De Gea was dropped for his part in the defensive mix-up with Vidic in the Fulham game, then surely Lindegaard should be dropped for his part in two of Spurs' three goals in this game – but he won't be as it's a trip to Newcastle and their tall, physical attackers next up for United which Sir Alex won't trust his record fee goalkeeper with. Secondly, where the hell was Evra? Or Evans? The ONLY benefit of Spurs' playing with just one recognised striker is that once Defoe had bested Ferdinand, and Bale had bested Rafael, it's only on-rushing midfielders that the other side of the defence can possibly have to deal with, but neither picked up a predictable run from Dempsey.
United picked themselves back up and reduced the deficit again almost instantly with an instinctive turn and finish from Kagawa but then spent frustrating minutes trying (and failing) to break down a resolved Spurs' back line that sank into itself for the rest of the game.
The withdrawal of Giggs and his replacement by Rooney still didn't solve the lop-sided 'always attacking down the right' problem, and neither did Kagawa's replacement, Welbeck, who although he managed to actually stay on the left of the field, was still ineffective in what is far from his best position, leading to incredible predictability in the final third. Although Scholes was powering the team with beautiful diagonal balls from the middle, United seemed stuck in a cycle of 'Give the ball the Scholes, Scholes play it out wide to Rafael or Nani, Cross is easily defended, Spurs are happy to sit back, United win possession again, Give it to Scholes, Cycle repeats'. This cycle ran and ran until the final whistle, with little sign that we'd have been able to break it had we played on for the extra few minutes Sir Alex has ranted about.
United were abject in the first half due to irrational and illogical team selection, and were only dominant in the second half as it suited Spurs to allow us to be so. Lessons must be learned from this performance or else other teams shall punish us by targeting our glaring personnel and tactical weaknesses as Tottenham were able to so easily do.
---
Video Highlights

---
Enjoy that? Give it a share!