The arrival of Robin van Persie rightly brings a renewed sense of expectation through the doors of Old Trafford. The prospect of the former Arsenal man and last season's Premier League top goalscorer dovetailing with Wayne Rooney has many fans salivating. The Dutchman will provide some much-needed firepower and he will be the latest player to shoulder the burden of a large transfer fee hanging around his neck.
Too many players shrink under the weight of expectation following a big money move to Old Trafford as they go from being a 'big fish in a small pond' at their former club to one of many 'prized carp' at United. Ashley Young is in danger of falling foul of his big money move as the former Aston Villa winger moved for around £15m last summer but his first season for the Reds was clouded by injury problems and a propensity to go missing in the big games.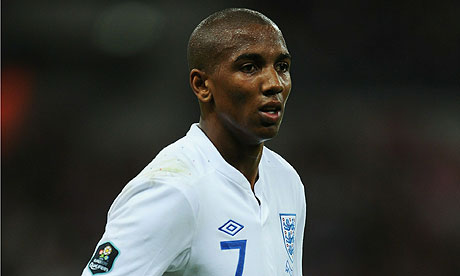 His lack of appetite for the big occasion was harshly highlighted during England's doomed Euro 2012 campaign, where the winger appeared to have lost all confidence, with his final contribution a missed shootout penalty after a quite dismal performance against Italy. There is a feeling that he goes missing too often when it matters most and this season is the time for the 27-year-old to finally prove his worth on the biggest of stages.
It is a massive season for United and Young after last season's trophy-less campaign, with wrestling the Premiership title back from City the main goal, alongside the need for much better showings in the Champions League and domestic cups.
Let us not forget that Young served notice of what he was about nearly a year ago when producing his best performance in a United shirt to date as he ripped Arsenal apart in that glorious 8-2 thrashing. He scored two goals that day but it was all downhill from there as an injury around Christmas-time stunted his progress before he earned headlines for the wrong reasons when emulating Olympic bronze medalist Tom Daley against QPR and Villa.
Young ended the season with 6 goals from 19 league appearances – not a bad return in all fairness – but at 27 years of age he should be at the peak of his powers and producing so much more, particularly in the big games. He has rarely threatened to reach the heights that saw him score 8 goals and produce 17 assists for Villa during the 2007/08 season, albeit he was named PFA Young Player of the Year in 2009.
The expensive arrival of van Persie can ease some of the pressure on Young but it also offers a real battle for first-team places, with Danny Welbeck and Chicharito pushing hard for a spot up front, while Young, Nani and Antonio Valencia go head-to-head (to head) for the two positions on the wings.
Valencia is the same age as Young and yet he is far more consistent and is the man Sir Alex will rely on in the big games. He will never give anything less than a 100% and his return of 4 goals and 13 assists from 22 league appearances compare favourably with Young's figures of 6 and 7 from 19 respectively.
Which brings us to Nani, who scored 8 goals and set up 10 in 24 appearances, and at 25 years of age the Portuguese winger looks as if this could be the season he finally comes of age. There is no doubt that Nani is a 'luxury' player but United can afford to have one of those when he is a player capable of winning matches single-handedly.
There were far too few match-winning performances from Young in his first season at Old Trafford and he is in danger of falling by the wayside. He left Villa under something of a cloud as fans became fed up with his failure to take on full-backs and lack of interest when not in possession. The flashy Nani and determined Valencia are each capable of filling those criteria and Young will need to start discovering his best or forever be remembered as being a player who preferred to be a 'big fish in a small pond'.
Article by Chris Knight @cjknight4 – Follow him on twitter
Enjoy that? Give it a share!