Cast your minds back to July 1st 2014, Argentina are doing their absolute best to put me to sleep with a dismal display of football against Switzerland in the second round of the World Cup. Just as I begin to nod off Angel Di Maria goes through and scores with 2 extra time minutes remaining.
For the entire game the winger had been monumentally hopeless; the ball bounced off him whenever it came his way (he lost the ball 51 times), his positioning was inconsistent and he wasn't by any means helping out in the defensive department, either. In other words, he was having one.
I've always thought that the mark of a true sportsman is when they are able to influence a result whilst radically underperforming. That goal from Ryan Giggs in the FA cup semi-final came after he had continuously squandered possession. When Di Maria scored that winner I knew he was a genuine talent.
And somehow, Ed Woodward has managed to prize him away from the Bernebau. The Argentinian has an average of around 1 goal every 6 games; he created a chance every 26 minutes in La Liga last season and passes the ball once every 1.8 minutes. Not only his he head and shoulders above anybody at Manchester United, he surpasses any attacking player in the Premier League (my opinion)
His talent is extremely well documented and rightly so. That being said, the fact that the club has broken the British transfer record over an attacking midfielder when the team has only kept 2 clean sheets since March will have perturbed a large portion of Manchester United fans.
Manchester United's problems lie in an uninspiring defence and a petrified midfield that is struggling to adapt to the profound changes made by Louis van Gaal. The necessity for a Makelele-esque midfielder and a suitable replacement for Nemanja Vidic outstrips the need for a player like Di Maria, according to some. Manchester United's core has been made to look weak by any form of opposition. A lot of people have said that the acquisition of Di Maria is pointless if you don't have anybody to feed it to him. I can't argue with that, whatsoever.
When asked about how Di Maria would fit into the system Louis van Gaal rather uncharacteristically hesitated and claimed that he may change the formation in order to accommodate the Argentinian.
This potentially shows a couple of things; Louis van Gaal may not have wanted Di Maria as much as first thought, the whole deal may have been marshaled by Ed Woodward in a desperate attempt to get the keyboard warriors from Kuala Lumpur off his back and it could also be a slight hint towards Louis van Gaal realising that the Manchester United back 3 aren't technically gifted enough to operate in the way he wants, and that a change to 4-3-3 was going to happen regardless of whether Di Maria joined the club.
Be that as it may, Louis van Gaal did make it abundantly clear that he will only sign players that fit his philosophy. The idea of merely throwing money at a situation in the hope that it gets better isn't prominent in Louis van Gaals thoughts, its certain that the Dutchman wasn't going to facilitate signings that were only done to satisfy fans, the purchase of Marouane Fellaini and Juan Mata during the Moyes era didn't fit Moyes' philosophy. Those transfers were more or less entirely driven by Ed Woodward. The same doesn't go for Louis van Gaal, every signing must fit his philosophy, and so the purchase of Di Maria is by no means a panic buy.
There are several methods in which Di Maria can be utilised under Louis van Gaal. Adnan Januzaj was sent on to play in central midfield in place of Darren Fletcher against Sunderland, he didn't have a storming impact but he was a distinct improvement. This shows that Louis van Gaal isn't afraid to play attacking midfielders in that position. Di Maria can be used in that spot without much nurturing; he has been deployed in that position at Real Madrid to storming affect on several occasions.
He provides 3 things that the midfield has sorely missed; speed, stamina and the conviction to go and beat players. The most prominent of those 3 being speed, his presence will result in more opportunities on the ball for the two strikers. It's hard to get the ball off the midfielder as a striker if all they are doing is harmlessly knocking it backwards and sideways.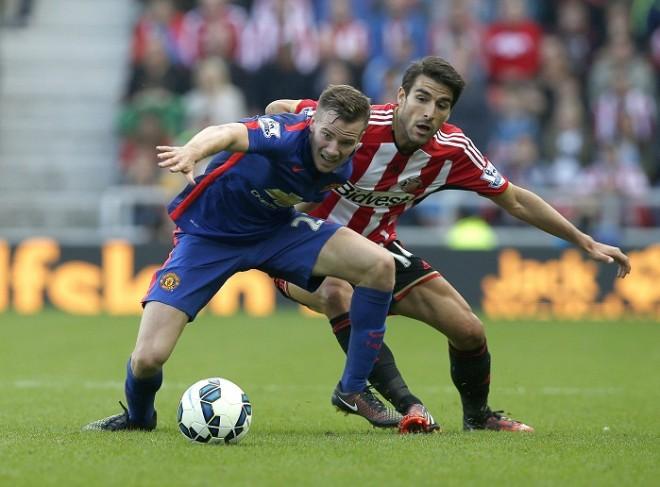 The potential 'change in formation' has provoked a fair bit of chat amongst United fans in the past day or so. The 'change' may actually turn out to be a bit more like a 'tweak' when it comes to the formation.
Instead of a radical swap to 4-3-3, the incoming of Di Maria could mean a slight change to a 3-3-2-1-1 as opposed to the current 3-4-1-2. This does allow the likes of Di Maria, Rooney, Mata and Van Persie to all be in the same team. It contradicts what Louis van Gaal said in regard to Wayne Rooney playing as a 9 and it does leave the defense even more exposed; that being said, if Van Gaal ever finds himself in a position where his team is a goal down with 15 minutes remaining it isn't a bad system to adopt.
Another talking point has revolved around what this signing means for Juan Mata. This never fails to wind me up. People forget that football is a squad game, and that doing everything possible to fit all your players into one team is a really adolescent way of thinking. Rooney, Van Persie, Mata, Di Maria, Januzaj, Carrick, Herrera, Shaw, Kagawa and Rojo will not play in the same team every week. Some players will play ahead of others because of the qualities they bring. Van Gaal will know when to play Di Maria ahead of Mata because he has the right managerial qualities. The whole debate about 'where Mata goes' or 'how Januzaj fits in' is completely unnecessary. The strength and depth in the squad should be seen as a positive and not a selection dilemma.
At the end of the day if you're not happy about this guy joining the club then there is something seriously wrong with you. The fear element of Manchester United has rightfully dissipated in recent times; seeing Cleverley, Young, Fletcher and Blackett on the team sheet hardly strikes fear into the heart of the opposition. But seeing the likes of Di Maria, Rooney, Van Persie, Mata and Januzaj on the team sheet can definitely provide a psychological advantage that so often helped Sir Alex Ferguson during his reign.
Enjoy that? Give it a share!