Wilson can fill an impending gap up front
James Wilson's inclusion alongside Tom Lawrence last night was just reward for a season that has seen the youngster notch goals for the U18, U19 and U21 sides, but the way in which the academy product adjusted to life at the club's top table was nigh-on unprecedented. It was a startling debut from the 18-year-old, purely for the fact that a player so young could jump into the senior side and notch a brace so confidently. The first, a swivel and strike from Marouane Fellaini's knock down and the second a predator's goal from the Belgian's rebounded effort offered a clear glimpse of a player confident in his surroundings. Not to lose one's head, of course; this match had an exhibition feel about it from the off, both teams having little to play for, but it was a timely reminder before the club embarks on an unprecedented spending spree that their own infrastructure is in rude-health.
Fact is that the identities of the players that are set to leave the club with a summer shake-up just around the corner are still (Nemanja Vidic aside) unclear. But should Javier Hernandez head for the exit the club after four years, on the basis of last night, at least, United are already in possession of a highly capable replacement. The Mexican is one of many to have suffered from David Moyes' reign but is unlikely to ever hold down the starting position at the club that he clearly craves. Wilson, on the other hand, will surely be chomping at the bit to take any and every opportunity that comes his way.
Whether Giggs retires or not, he is adored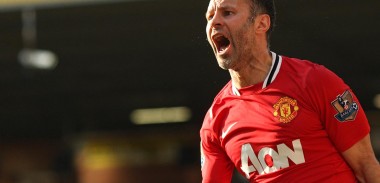 You only had to look at Eldin Jakulpovic's sheepish reaction to saving Ryan Giggs' late free kick to understand how widespread the outpouring of love on show for United's interim manager last night. From the 64th minute and his substitution for Wilson, the Welshman was treated to a superb reception along with frequent cries of 'shoot!' whenever he touched the ball in the hope of a fairy tale goal. It didn't come, of course, but that hardly seemed to matter, and the unrestrained affection he received upon taking the microphone to round off a fairly dismal season at Old Trafford surely more than made up for it. At this stage, coming off such a high, few would begrudge him another season, but if Giggs takes up the rumoured position of number two alongside the club's new manager, then he was gifted with as touching a send-off as he could have wished for.
Exhibition stuff displays how far United's season has fallen
Not that Old Trafford hasn't been treated (?) to the occasional procession or league match of little consequence, but the fact is that this club is simply not used to rounding off a season at home with little to show for it. Last weekend's defeat to Sunderland potentially snuffed out a chance to qualify for Europe's second-tier competition, the only prize United had left to fight for, and with Hull mindful of an FA Cup final date with Arsenal in a few weeks time, it's no shock that the evening felt more like a pre-season friendly than a competitive fixture.
Not that it wasn't a particularly enjoyable evening, of course. But it was a symptom of a poor season, and one that United would do well to avoid making a habit of.
Vidic leaves United with goodwill
There was something irrefutably disappointing about seeing that image Nemanja Vidic putting pen to paper on his contract with Inter Milan a few months ago. It stuck in the throat, the club's captain smiling as he plans the next phase of his career elsewhere, but in reality, he had found David Moyes' leadership frustrating, and ultimately, the sheer commitment, desire and leadership that he has shown over the last eight years was enough of a reason to let such frustrations waft away.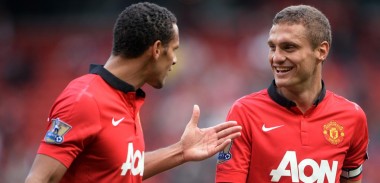 Vidic has been an integral part to the club's success since his arrival. After establishing himself as first-choice alongside Rio Ferdinand after a shaky start to his United career, he has been a great leader for the club on the pitch, and a humble man away from it, never drawing attention his way. In an age where footballers are increasingly distanced from the fans they play for, Vidic was a relatable, hard-working figure that offered his body for United's cause on innumerable occasions. His emotional speech in front of an adoring Stretford End last night was a fitting goodbye for a devoted servant of the club, pointedly moving the negativity of this term to one side. Whatever your feelings on his performance this season, there's no doubt that his absence as a leader will be felt.
Thoughts go out to South Stand ST holder taken ill
Best wishes go out to the 55-year old man who is reported to have suffered a cardiac arrest during the second half of last night's match. The man, whose name has not been released is said to be in a stable condition in hospital this morning, and all of us at Red Mancunian would like to wish him a speedy recovery.
Signs are that United will return stronger in August
There's no denying that a huge weight was lifted when David Moyes was sacked as Manchester United manager. Admittedly, a large part of the carefree nature of last night's atmosphere was because United have little to care for or fight for as the season ends, but there's a sense that the club took a necessary step in their attempts to restore itself by firing the Scot. Whilst the abrasive nature of his likely replacement will provide a stark wake-up call to the members of this squad whose contributions have been questionable of late, there's a sense that this season, as bad as it has been, is a blip.
We have but speculation and hope to back that up; the calibre of the transfer targets that United are hoping to bring in suggest that the penny has finally dropped as far as midfield goes, and the injection of quality the squad should receive, along with discarding of those surplus to requirements should be sufficient to avoid a repeat finish of 7th. It's undeniably a big summer for the club, dwarfing last year's in terms of importance given how poor this season has been, but so far, the signs for the next campaign are promising. Here's hoping those words don't appear to be quite so empty in twelve months time.