It's finally happened. After a disastrous twelve months that has seen Manchester United slip from champions to mid-table also-rans, aswell as facing the prospect of a season without any sort of European football, David Moyes' tenure as manager of the club is over. In the aftermath of another demoralising defeat, this time at the hands Everton at Goodison Park on Sunday, the club's board privately confirmed to nigh-on every English newspaper that the Scot would not continue in his current position. It's under incredible circumstances that United's first season since Sir Alex Ferguson's retirement will end, and given how low the club has sunk on so many occasions since Moyes' appointment, it's tough to come to any other conclusion; this is the right move.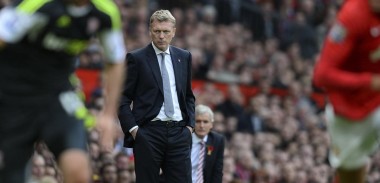 This is no sudden sea change, and these are not the actions of a board who were desperate to get rid of a man they'd employed barely a year ago. The money given to Moyes to reshape the (at the time of writing) current champions suggests that they desired success for the Scot, as did the substantial contract he was presented with, but at the tail end of a season that has been rife with poor results, insipid performances and innumerable rumblings of discontent from within the playing squad, it's become almost impossible to back the man embarrassingly anointed 'The Chosen One'. The stark reality of Everton's progress under Moyes' predecessor Roberto Martinez, and the worrying regression United have displayed since his appointment was laid bare this past weekend.  Martinez's side played with verve, confidence and desire, traits sorely lacking from Moyes' charges in a match they appeared desperate to escape. The 2-0 defeat signalled the first time that Everton had outdone United both home and away in the Premier League era, with this being one of the less embarrassing stats from a season rife with unwanted records.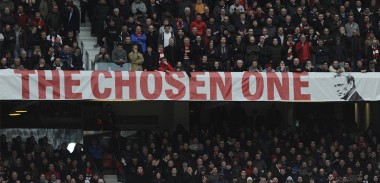 Everything, from the disinterested nature of the playing staff to the bumbling post-match interviews pointed towards a man that was out of his depth, and whilst Moyes is by no means a terrible football manager, he has been shown to be thoroughly out of his depth at the level that United operate at. All too often, he appeared wide-eyed, an eager man with an overwhelming desire to succeed and an approach that bypassed reality in favour of sheer bloody mindedness. His players frequently entered games with rigid tactics and were forced to stick to the hymn sheet, with United's most creative forces either played out of position or poorly supported by a rigid 4-4-2. Even when consistent use of proper wide men was abandoned after Christmas, there were precious few examples of Moyes throwing caution to the wind and his bolder approaches often came up short. Innumerable members of the squad have made their feelings clear with their feet, Nemanja Vidic already leaving for Inter, and Rio Ferdinand, Shinji Kagawa, Robin Van Persie, Nani and now Longsight-native Danny Welbeck the latest in a long line of those rumoured to want out of Old Trafford under the Scot's leadership. Complaints of unnecessarily demanding training sessions, a consistently and overly cautious approach in the big games and some less-than-complimentary press briefings ensured that many in United's playing squad simply had little desire to play for Moyes, let alone trusted him.
Suggestions were there in the infancy of his appointment, with an unsuccessful summer spent chasing after Thiago Alcantara, Leighton Baines and Cesc Fabregas ending in a last-minute purchase for Everton's Marouane Fellaini at a vastly-inflated £27m. The Belgian has looked almost as out of his depth at his new club as his manager, and though the club-record £37.1m purchase of Juan Mata from Chelsea hinted at some impressive clout, even as United looked set to watch the title race through binoculars in January, the Spaniard has been shifted into ineffective positions all too frequently. The promotion of Wayne Rooney from outcast to potential captain has left a sour taste in the mouths of many United fans, with the England striker's fitness, application and use under intense scrutiny. The Scot has been seemingly happy to make him the vocal point of his plans, but seemingly to the detriment of his side.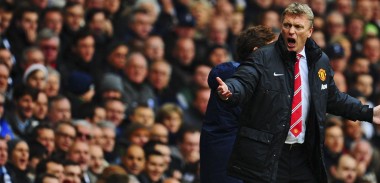 Even after all of this, the frequent media faux-pas and an increasingly lazy touchline demeanour that seemed to surface whenever United fell behind, the club's fans stood by him. "Play like Fergie's boys" was a refrain heard home and away until the 0-3 humbling at home to Liverpool in March finally started to hint at cracks in the match-going fanbase. Old Trafford resisted the temptation to descend into open rebellion despite shocking performances against local and former title rivals, but such patience has not been repaid, and after each positive result, United seemingly sunk to another new low on an alarmingly regular basis. Sunday's defeat mathematically ruled out any chance of finishing fourth in the Premier League, with no Champions League football for the club next season for the first time since 1995, and having long since passed on the opportunity of domestic silverware, the club's powerbrokers clearly felt that this summer's war-chest was better off in the hands of a more capable man.
Lord knows what Moyes himself feels at this point. He is not a terrible manager, by any stretch of the imagination. He has clearly wanted to succeed, and appears to have aged incredibly in his pursuit of success, but the reality is that he has failed to deliver on every target set for him this season. The fact that Ferguson's personal backing of his chosen successor has long since evaporated must have been a devastating blow, and whilst he was no one's preferred choice, the majority of fans wanted him to succeed. But such goodwill has rightly evaporated in the face of the overwhelming evidence that his appointment was causing the club an unreasonable amount of damage.
Of course, with the 2013/14 season almost in the books, and the World Cup in Brazil looming, the simple question is 'what next'? The task for the next manager appears to be discerning the wheat from the chaff in regards to the playing squad for themselves, as Moyes had begun to do last summer, whilst hoping serious inroads on player recruitment are underway as opposed to casual enquiries. Not everything will be magically solved by bringing in a replacement for Moyes, either; any number of players in the current squad need to evaluate their own behaviour and application this season, regardless of the circumstances and the same holes at left-back and central midfield that were identified last season still require plugging. For the time being, at least, Ryan Giggs will assume control and attempt to ensure that United's season ends on something approaching a positive note before a permanent replacement is announced. The uncertainty that surrounded the conclusion of last season with Sir Alex Ferguson's retirement has resurfaced, but with his successor now gone, the process of finding a proper replacement for the club's greatest manager can truly begin.