According to a report from The Guardian on Tuesday, Manchester United are set to offer Bayern Munich midfielder Toni Kroos a staggering £260,000 a-week. With Rooney's new contract seeing him earn a tidy £300,000 a-week, this potential deal for the German would not make him the highest paid at the club but certainly up there along with Wayne Rooney & Robin van Persie.
On Monday Bayern Munich announced the signing of German international Sebastian Rode, who plays as a midfielder. With Bayern already having a overload of world class midfielders already could Rode be a potential replacement for Kroos?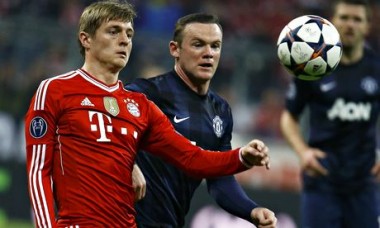 David Moyes is fully aware that this transfer will certainly not be easy, considering he currently plays for the best team in the world and the fact United don't have Champions League football makes this a tough one. Moyes is hopeful this £260,000 a week will be enough to lure him to Old Trafford.
It's certainly a summer where United need to make a statement, with many players seemingly heading for the exit door and clear weaknesses in the squad there certainly will (or at least should be) a lot of ins and outs through Old Trafford. Signing a world class player like Kroos would show how we can still attract top talent despite the clubs current situation.
Do you think Toni Kroos would be good for Manchester United? Comment in the section below.