---
Juan Mata is finding his feet
There is only one place to start. Jubilant Manchester United supporters both in the away end at St James' Park and watching around the world witnessed further evidence this afternoon that Juan Mata is not only fitting in, he is making the #10 role his own. After a slow start for the visitors in which they failed to register a shot, United were presented a glorious free-kick opportunity to attempt to at least trouble Rob Elliot, deputising in the Newcastle goal in the absence of Tim Krul. Mata coolly despatched to score his second goal in as many games. United's record signing doubled his tally and the Reds' lead just minutes into the second half, displaying great composure to round Elliot and pass the ball into an empty net after good work from Javier Hernández.
It is not only his creativity and ability to carve out chances for himself for which Mata deserves praise; his work rate in winning and retaining the ball was key today, and the Spaniard played an integral part in everything good that came from United. His awareness and vision to make just about any pass was highlighted in the build-up to the visitors' fourth goal. After receiving the ball from Januzaj, Mata smartly backheeled it back into the Belgian's path to set him up for a good finish. His link-up play with Kagawa meant that Hernández's runs, all too often snuffed out this campaign, were found with ease. Man of the Match.
Jones/Smalling is a solid and dependable partnership
The sterling individual and collective performances turned in by Rio Ferdinand and Nemanja Vidic against Bayern Munich on Tuesday offered a timely reminder of what United can expect to miss once their veteran centre-halves depart the club. Although no longer at their peak separately, replacing their hugely successful partnership, and attempting to emulate said successes and trophy hauls, will be no mean feat.
Whilst United will almost certainly look to bring in another centre-back in the summer, the combination of Jones and Smalling in the absence of Jonny Evans is blossoming. Between them, the pair offer a good aerial presence, aren't short of pace and, whilst both have their shortcomings – Smalling's composure on the ball leaves a lot to be desired and Jones' bull-in-a-china-shop approach leaves him injury-prone – their appearances side by side have been largely impressive this season. Given more playing time together, the pair will naturally build up their understanding and, still young, will learn plenty in that time. David de Gea, despite becoming the team's rock between the posts, needs a settled defence in front of him with which to build an almost telepathic relationship if United are to form a solid spine around which to create a team to challenge for titles again.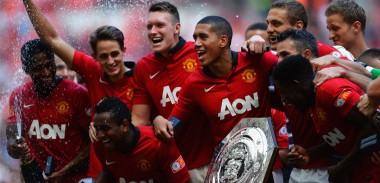 Fellaini is aggressive… and not in a good way
Rewind a year. Marouane Fellaini, then at Everton, was a sturdy, imposing brute of a midfielder. Tough in the tackle and solid in the air, he dominated nearly any battle at the centre of the pitch. A threat at set pieces, and possessing the ability to pop up with a goal out of nowhere, we can pinpoint several occasions in history where United have been stung by the big Belgian – ask Michael Carrick.
We return to present day, where we witness a very different Fellaini. Now clad in red, he bumbles around the pitch aimlessly, is easily shoved off the ball, wins few headers and resorts to flinging out an elbow when he doesn't get his own way. Stick a man on Fellaini and he becomes frustrated; that was evident in the 2-0 home win last season when Jones marked him out of the game. Is it a case of a small and frustrated fish in a very big pond? Fans will forgive players for their faults, for mistakes and errors made on the pitch. Roy Keane, known for his on-pitch "antics", had the talent and work rate to back it up. He wouldn't accept less than 100% from either himself nor any of his players. Fellaini's price tag, although a hefty one, is of course not the Belgian's fault; that is an unfortunate weight he has been lumbered with. But the work rate for which Keane was known for is not evident in United's #31. Is he simply being overrun, or is he attempting to cruise along? The latter might not be the case, but that is how it comes across, and supporters will not tolerate laziness.
United supporters, once again, were the stars of the show
Convincing team performances have been few and far between for the red half of Manchester this campaign, and this has made for painful viewing for the supporters in the stands. Home and away, the fans have refused to shy away as the players have so often done, and have constantly endeavoured to make themselves heard. Drawing praise from all corners of football, the supporters have not only banished the notion that all United fans are "fickle gloryhunters", but have done the club proud. This is the way it should be. The team hasn't always delivered the results these fans deserve, but the top tier of the Sir John Hall Stand was treated to some exciting attacking football today and a glut of goals – a rarity under David Moyes and a reward for their unrelenting support.
Ready for Bayern? As ready as we'll ever be
Following the energy-sapping 1-1 draw against the runaway Bundesliga leaders at Old Trafford, and with the second leg next week in mind, questions were asked as to the potential starting XI Moyes would plump for to take on an injury-ravaged Newcastle side. Expectations were relatively low, some predicting a narrow win, others less optimistic. Underused players were given a run out, youngster James Wilson was named on the bench, although did not feature. The 4-0 scoreline in United's favour was a pleasant and very welcome surprise.
Yes, the opposition, missing their danger man in Loic Remy and a host of other first-choice players, were poor in possession, lacked impetus and momentum and offered little threat up front. However, you have to beat what is in front of you. This was another good win away from home for a United side which has fared better on its travels this season. The players will return to Manchester ahead of their trip to Munich in deservedly good spirits, knowing that a sterner test awaits them on Wednesday.
---