That was United's best display of the season
Sure, it wasn't the most exciting, or even scintillating performance you've ever seen from this club, but who on earth expected Manchester United to destroy Bayern Munch with a beautiful display of attacking football? No, United needed to be disciplined, maintain their shape and try not to get stretched by Bayern's slick passing. The early offing was hard going, and the sense that the visitors could switch into a higher gear and overwhelm the home side at any moment never truly dissipated, but for all of their possession, Bayern could easily have gone in a goal down at half time after Danny Welbeck's chance, and when Nemanja Vidic headed home just before the hour mark, they had only themselves to blame for some slack defending.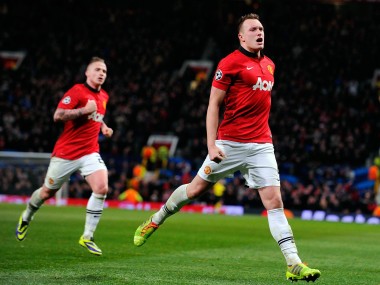 It's astonishing to consider that David Moyes was able to oversee such a performance given United's frequent slip-ups at home this season, especially in light of the opponents. Alex Buttner, so often a target for derision, played his heart out against Arjen Robben and left Old Trafford with a lot more credit than when he'd entered. Michael Carrick protected his back four superbly when called upon, and Vidic and Rio Ferdinand's centre-back partnership has never looked as solid under Moyes as it did last night. Perhaps the only thing missing was greater sharpness up front. Yet, given the circumstances, such desires feel greedy. Ultimately, the concession away goal was expected, given the opponent. That United answered with a goal of their own, and will head to Munich still very much in this quarter final tie is cause for (some) optimism.
Welbeck can cause Bayern real problems in Munich
It's hardly the most attractive way of exploiting a team's weakness, but there's enough to suggest, as there was against Arsenal in Bayern's last sixteen tie, that long balls will cause their opponents some real trouble if United can repeat similar tricks in next week's second leg. Jerome Boateng's slip allowed Welbeck that clear run at goal before half time, and whilst the decision to chip Manuel Neuer was appalling, the fact that his mere presence and pace provoked such uncertainty in Bayern's back-line should give Moyes food for though. Dante will presumably replace the suspended Javi Martinez, himself booked out of the second leg after fouling Javier Hernandez when turning towards goal, which will provide further encouragement to the notion that Welbeck could hold the key to winning the tie. As City proved in this season's group stages, despite the nature of the match, Guardiola's side are susceptible when pressured. Not that we aspire to City's level, of course….
Fellaini is massively out of his depth
We saw it approximately one week ago in the derby, and time has not sweetened the Belgian's touch. Tonight, he battled hard and bit into challenges, but his work on the ball was poor. He frequently chose to run at one of the finest midfields in world football without any justification, felt he had a few extra seconds on the ball that were never available and looked far more like a man trying to fit in than a marquee signing. Here's hoping this summer either improves him, or provides a replacement.
Bayern can offer more
There has to be a note of caution in the face of such an optimistic result, of course. Guardiola's side dominated away from home, like we thought they would, but failed to create much in the way of clear-cut opportunities. A performance similar to the one that got them through against the Gunners a few weeks back could well cut it, such is their lethal streak in front of goal, and United must be prepared for another draining evening's work in order to keep Bayern at bay. Still, Moyes must be proud at the way in which his side contained their opponents last night.Frank Ribery and Robben were useful, but were constantly surrounded with  little space in which to work, and Thomas Muller was feeding on scraps before his substitution. Of course there is room for improvement there, improvement we're likely to see next week, but if this performance proved anything, it showed that United are up to the task.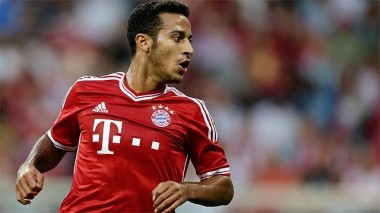 Moyes stays. At least for now
One draw doesn't make everything all rosy between the club's fans and its current manager. It doesn't take away the sting of those consecutive derby losses at Old Trafford, and it doesn't change the fact that all United have to cling on to at the business end of the season is an outside chance of winning the Champions League. It's not good enough, and Moyes knows it, but tonight, he did the best with what he had at his disposal and got a great performance from his side. Lord knows what awaits United in Germany next week, but Moyes has done himself a few favours by coaxing such a committed display out of these players. A heavy defeat could easily happen, depending on Bayern's mood and United keeping their discipline, but this was easily the most significant result of Moyes' career, given the differing fortunes of these clubs. As such, you can imagine the board are breathing a little easier than they were, and probably thinking about this summer's rebuild as opposed to a summer searching for the Scot's replacement.