Going out of Europe is severely painful. Whether you're a player, coach or supporter it really shakes you. There's something about bowing out of the world's biggest club competition that is just so demeaning and traumatising to experience. One of my worst memories as a united supporter is travelling to Milan back in 2007 only to see our side denied a chance to face Liverpool in a Champions league final by being taken apart by AC Milan.
It isn't only I that exiting this tournament affects, even more so it's the team as well. If you analyse the last time we played Bayern back in 2010, which was ironically a quarter final loss that really shook the players, the team never looked the same after that. The title that year went to Chelsea when on paper it should have gone to Old Trafford. Another example was that harrowing light in Switzerland where Manchester United ended up 3rd in their group. What followed was more European embarrassment, this time at the hands of Athletico Bilbao and also the title rightly going to Manchester City. You can even acknowledge that European exit last season affected the side. The violating and unjust defeat to Real Madrid certainly rocked the teams form towards the closing stages of the season, draws to West Ham and losses to Chelsea and Man City suggested that the side had experienced a dip in confidence ever since that defeat.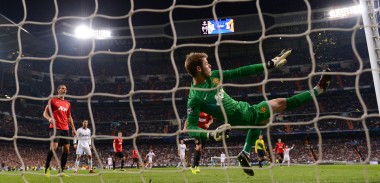 But we remain loud and proud in Europe courtesy of a determined display against an average Olympiakos side, but now come up against arguably the most complete footballing side this generation has seen. This Bayern Munich side, spearheaded by Pep Guardiola have such a complete passing game that often some individual players make more passes in a game than the whole of the opposition team, they have blistering pace on the flanks, a defensive line that are not only incorruptible but can distribute passes all over the pitch with unswerving accuracy and a striker who just seems to score with every opportunity in the form of Mario Mandžukić, all this is sugar coated in uncompromising German discipline. In short, they are the closest you will get to invincible in today's game.  This comes out when you analyse Bayern from a statistical point of view. This season in the Bundesliga they have won 23 games and drawn 2, scoring 74 and conceding 12 in the process. They are currently on a winning streak of 17 games and an unbeaten streak of 25 games, the last time they lost at home in the domestic league is all the way back in October 2012. You would say that the only problem they have is how one distils all the talent on display correctly in a starting 11, they could probably field 2 sides capable of winning the champions league.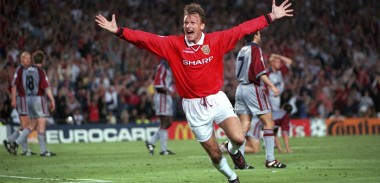 So can a confidence stripped side who have only won 48% of their Premier league matches this season beat Bayern Munich over 180 minutes? Well, the answer is no. I'd like to state that I'm a realist, not a pessimistic, and I appreciate that it is 11 men versus 11 on the day, but the chances of reaching the semi-finals looks dismally unlikely. If Manchester United is going to prosper in the near future, it is imperative that the performance against Munich is stellar and resolute but also audacious and gallant. Calibre of the players and confidence will be what separates the two sides, but when it comes to distance travelled, dribbles made, tackles won, headers won, shots on goal, touches in the opposition penalty area etc. it must be around equal. This will not only instil a sense of belief and much needed confidence in the players but will also allow the fans to have more faith in David Moyes and his team, and that is the first step towards moving forward as a football club.