Javier 'Chicharito' Hernandez, a name that resembles one of the biggest coups in footballing history. Back in April 2010, Sir Alex Ferguson snapped the unknown forward up from Mexican club Chivas de Guadalajara for a mere fee reported to be around £6 million pounds. The world cup that followed that summer immediately put the player into the world's spotlight and almost four years later the 'little pea' has cemented himself as a firm crowd favourite at the home of England's greatest ever football team. The 25 year old's path to success has been a fairytale story, from the lower divisions of Mexico to becoming the proud owner of two Premier League winners medals. Dreams cannot last forever however, and sadly this one could well be nearing the end.
The first nail in the coffin for Hernandez was undoubtedly the arrival of the Dutchman, Robin Van Persie last summer. After two highly successful seasons  in a United shirt, knocking up 32 goals in the process and forcing the club's then record signing Dimitar Berbatov onto the sidelines, the Mexican was a regular started for Ferguson's side. All be it the striker had started to face increased competition from local lad Danny Welbeck, but Van Persie's arrival became the catalyst for the players new nickname as 'super-sub'. The fact of the matter is, from that date of the 15th August 2012 until the present day, the partnership of Robin Van Persie and Wayne Rooney when the pair are fit, has not, and will not, be broken up.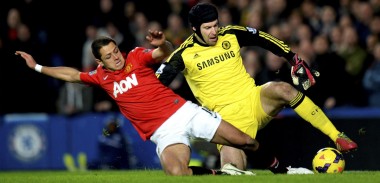 With a strike rate of a goal every 2.5 games, there is no doubt Chicharito would be starting regularly for most European clubs. His main problem though has always been his lack of other qualities apart from the art of goals scoring. To be brutally honest, he hasn't got the greatest first touch in the world, his hold up play is non-existent and his passing game, well he just doesn't have a passing game. In fairness to the Mexican; his presence and movement does help stretch a defence unlike any other United player, this quality is also his fatal flaw however as this attribute is far better utilised later in a game of football, especially when chasing a game. Ferguson opted to use him more and more in this way towards the end of his reign, although he did still start his fair share of games, not something the player has had the luxury of experiencing since the retirement of the Scotsman.
This leads us on to the present day under the guidance of a certain David Moyes. Hernandez is simply not a Moyes type forward. It is crystal clear Moyes favours a 4-2-3-1 formation, or a glorified 4-4-2 some critics may call it. Whatever it is, it relies on a striker with a good all round game, something even Hernandez's biggest fans can't argue his case for. If Robin Van Persie isn't fit or firing, Danny Welbeck weighs up with the next the biggest case for a place in the team. The reds faced a hectic Christmas period this season with the absence of both Van Persie and Rooney due to injury, Welbeck started every game whilst Hernandez still remained sat on the bench. sadly, if the Mexican couldn't get a game then under Moyes, then he isn't going to full stop.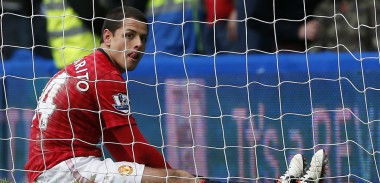 Reports have now started to circle that the striker is indeed set for a summer exit, Inter Milan one of the suitors being mentioned to secure the poachers talents. Take a second to imagine the player in Italy, his pace and movement against the sluggish Serie A defences, a move that would most certainly help reinvigorate the players career and boost his stalling international exploits. Coming into the prime of his career, the little forward quite simply needs to play.  Nobody can question the players admirable passion he shows when pulling on the famous Manchester United jersey, but he too has become despondent with life as a fourth choice forward. This has become evident with a few questionable statements on social media. There's no point digging into that any further as it's all ifs and buts, would it have happened under Ferguson though?
United will most certainly be losing a good player if reports are to be believed. Despite very limited chances this campaign the striker has still bagged a respectable 7 goals. Late goals against Stoke City and Sunderland convey the players talents and that quality goal scoring instinct he adds to the side. Hernandez offers something different in simple terms and whether you rate his actual footballing ability or not, goal scoring is not an easy talent to both find or replace. Nothing can take away the memories 'the little pea' has brought to Manchester United football club, nor too his enthralling story as he rose from the unknown. It does seem on all accounts though, the curtain is drawing on Javier Hernandez's Manchester United career.
Enjoy that? Give it a share!