After beating Aston Villa on April 30th to seal a record twentieth league title, Sir Alex made a notable effort to sing the praises of the young stalwart that is Phil Jones, despite the fact that Ryan Giggs now had more league titles than Arsenal and that Robin Van Persie had just scored a goal of the season contender. He made insights as to how the young centre back has the credentials of an England and Manchester United captain. I soundly believe that this statement is spot on; Jones is a player who injects life, aggression and also brings a serious amount of intimidation into his game. He has shadows of Roy Keane about him with his tenacity and vigour.
Last season, Jones couldn't find a consistent place in the Manchester United back line and was called on to play in the midfield alongside Carrick or Scholes. Even when playing out of position, Jones provided tremendous tactical value as a combative central-midfielder against some of Manchester United's most formidable foes this season. That's also been the case with this season, however injuries have halted his development into what genuinely could be a world class player. What I enjoy about this man as well is also his overwhelming understanding the way the game develops, this allows him to make tackles high up the pitch. His willingness and ability to bring the ball out the back adds an unpredictable element to attacks as this can create overloads in the build-up to such moves. With this in mind; his performances are often ones of tactical sensibility and discipline. These are the type of things that Sir Alex Ferguson liked, which is why he was so fond of Darren Fletcher and Ji Sung-Park. I think that is why he is generally favoured as a central midfielder.
Jones has also played as a right back on occasions for United, Blackburn and even England. His grit and perseverance means he is defensively very firm but can unfortunately sometimes miss time his tackles against some wingers who are more technically gifted and agile. Nonetheless, he possesses a ruthless 'cut-throat' attitude when at right back. Attacking-wise he also shows great promise, the tenacity and inadvertent attitude he obtains means that he can be quite a handful. His crossing can also be a major asset, Jones manages to land a lot of pace and outswing to his crossing. One criticism that will vanish with experience is his inability to look up when he crosses, meaning a very good ball lands in a vacant area, provoking, 'oohs' and 'ahhs' amongst the terraces.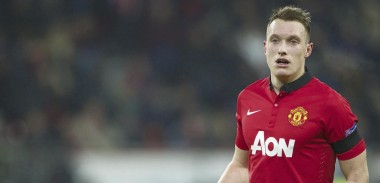 Despite all his versatility and capability in these positions, everybody knows (including me) that the only place for Phil Jones is centre back. This is certainly his natural position and one that is he is obviously most comfortable in. Not only does he possess excellent work rate and tenacity but is also a lot more relaxed in possession of the ball. With the right defensive partner, Jones can still get forward and provide an extra dimension to attacking moves. But more importantly, the energy and commitment he shows to the cause is nothing short of breathtaking. The performance against West Brom on Saturday once again showed how gifted and determined he is to excel in that position. At times he looked a tad rugged and fluctuant, but I only put that down to him not being able to play in this central defensive role that often this season. You could just tell that he was itching to make his mark on the game and, with united 3-0 up and cruising, Jones still felt inclined to sprint forward and make a tackle so colossal on Zoltan Gera that it ended up being a 20 yard pass.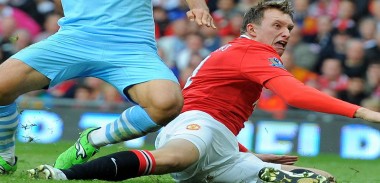 What I mean by this is that if Manchester United as a club is to be successful in these upcoming years, then Jones must not let his development be hampered by injury and play almost every game in the centre back position. With this he will blossom into one of the most feared and formidable centre half's in today's game.
Enjoy that? Give it a share!