Not content to do things the easy way, United began their Boxing Day fixture at Hull City by falling two goals behind inside the first fifteen minutes with some startlingly sloppy defending, battled back to parity before the half-hour mark and won thanks to an own-goal from a former trainee. Not forgetting the rather foolish red card picked up by Antonio Valencia late on that provoked a belated Hull onslaught. Normal day at the office, really.
---
Januzaj changed the game
The sight of Rafael limping with what looked like a tweaked groin filled absolutely no-one with joy, given that his replacement's record at right-back isn't particularly convincing. But the inclusion of Adnan Januzaj seemed to shake United out of their early stupor, given that his first real contribution was to set up United's opening goal after drawing a foul in a dangerous position from Maynor Figueroa.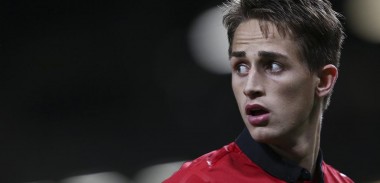 Up to that point, the visitors had looked distinctly off the pace and were struggling to cope with Hull's fearless approach. Suddenly, United had an attacking impetus. All it took was someone willing to get in behind their defence.
---
A better team would've punished United's mistakes
As the match entered the finishing stretch, you couldn't escape the shadow of the 2-2 draw in Cardiff last month, namely because United had again  shown enough superiority to take the lead, but had failed to snuff their opponents out sufficiently and left themselves open to an equaliser. The belated siege that Hull laid on David De Gea's goal should have led to the hosts' third, with the Spaniard flapping at a deep punt, James Chester fluffing his lines with a great opportunity and David Meyler firing wide with the game's last chance. Any number of teams would've punished United's failure to kill the game off, especially with opportunities as clear-cut as this.
Unsurprisingly, those last two opportunities came from the right-hand side that had recently been vacated by Antonio Valencia after a foolish second booking for kicking the ball away saw him rightfully sent off. Maybe the Ecuadorian had forgotten that he was already on a yellow card, such was the sharp fashion in which he knocked the ball away. Either way, that little moment of madness almost cost his side big time, something David Moyes is sure to make him aware of.
---
Rooney reaches the 150 club. Moving on…
Given that the level of praise seeping from the club's pores towards its number ten is danger of enveloping him in an impenetrable cloud of smug, let's just make a casual note about Wayne Rooney becoming only the second player in Premier League history to score 150 goals for a single club and have done with it, eh?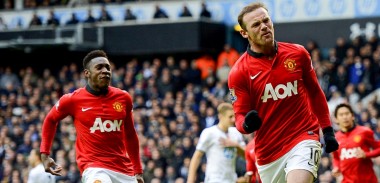 At least we could, if he hadn't yet again displayed how valuable he is to the club at present. The equaliser, a gorgeous volley that looped over a stranded Allan McGregor was a thing of beauty, one of the best of his United career, and his juggernauting run into the box was a big factor in James Chester diverting the ball into his own net for the winner. But, y'know…BOOOO.
---
 Not the best advert for United's backline
Although it really was just as well that Rooney was on top of his game yesterday, as Jonny Evans' finest hour and a bit, this was not. Not hoofing clear when the ball is presented to you deep in your own penalty area is one thing, but diverting the ball past your goalkeeper in a hashed attempt to make amends with the follow-up falls into hitherto unexplored realms of comedy typically reserved for Sunday league sides.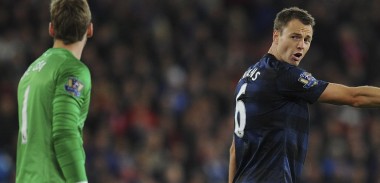 Not that those around him fared much better, mind. De Gea has earned the occasional wobble given how solid he's been this season, but the unconvincing flap that left him far from his goal-line and nowhere near the ball was not a great indication of his talents, and almost cost United the equaliser. A low save to deny James Chester certainly helped, but it was indicative of the pressure Hull were piling on that no one seemed particularly settled behind United's midfield. Credit to Hull, of course; their approach made life difficult and it would've been hard to argue with a share of the spoils had United conceded late on. Instead, they let United's defence off the hook.
---
Keep on carrying on
Of United's 5 successive victories, this was probably the luckiest, but with four of the teams that sit above United playing each other this Saturday, it was vital to keep things ticking over. David Moyes is convinced that his team can mount a challenge for the league title; others are less optimistic but United need to keep winning regardless, and results such as this when the performance isn't quite up to scratch are hugely important when rivals are dropping points. Onto Carrow Road…
Enjoy that? Give it a share!