As per WhoScored.com, 42% of Manchester United's attacks come down the right wing, 33% down the left, but just 25% from the centre (lowest in the Premier League).
David Moyes has always been an advocate of wing-play.
Last season, only 27% of Everton's attacks were centrally originated, with only Sunderland and Reading faring worse in that segment. Moreover, in the 2010/11 term, Everton had the fewest proportion of attacks coming from the middle of the park (26%).
But while Moyes' one-dimensional approach helped the Toffees to overachieve on a continual basis, at United, he needs a plan B as well.
Shifting play from flank to flank has made United predictable, especially taking into account the abject attacking displays of all the wing-men baring Patrice Evra and Adnan Januzaj.
However, is this wing-play emphasis by force or by choice?
Let's analyze.
---
Midfield Pairing Sitting Too Deep
The Tom Cleverley-Marouane Fellaini midfield pivot was subject to heavy criticism after United's 2-2 draw at the Cardiff City Stadium.
Joey Barton felt United have never been "this weak in middle of the park" in the Premier League, while David Lynch of the Manchester Evening News suggested the duo required more "creative aid".
The simple problem with United's midfielders is that they sit too deep. It's probably owing to threat of leaving the backline vulnerable as a two-man midfield can be easily overrun. But it's harming the champions.
United are yet to score a goal from midfield this term.
When the Red Devils are in possession, the two midfielders are so deep that there's no link with the two strikers. United appear as a disjointed team.
And in Carrick's absence, there's no one who can directly pass in between the lines to the strikers. So the only "safe" and viable option is to pass the ball out wide. It's easier to pass horizontally as the defending teams generally look to cut off the vertical passing lines.
United's emphasis on playing down the wings means they stretch the field of play by a wide magnitude. As Gary Neville point out, United like to "open up the pitch" and "make it as big as possible". But the absence of a "shuttler" means no one takes up the space opened up in the center. Rooney might do it sometimes, but his instincts are to either shoot or distribute play. He can't consistently make defense-splitting passes. Whereas, most of the times, the England international is in the 18-yard-box, anticipating the cross from out wide.
---
Wayne Rooney Too High Up the Pitch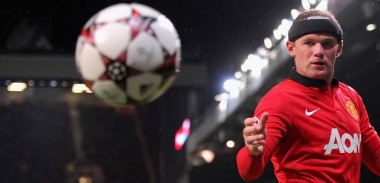 Not only do the two midfielders sit very deep, Wayne Rooney positions himself way too high up the pitch.
Rooney has done an admirable job of tracking back to help out the defenders this season, particularly in the game against Arsenal, but when United are in possession, the 28-year-old is too high up.
It becomes difficult for the players to pass directly to him or reach him as the two holding midfielders (or defenders) can't run with the ball.
Against Cardiff City, Rooney's average position (10) was nearly as high as Javier Hernandez (14). He wasn't playing as the No 10, but as the strike partner.
As Richard Jolly of ESPN points out, Rooney is a forward playing in a No 10 position so he doesn't get heavily involved in the build-up at times.
" Those who occupy the No. 10 position can be divided into two groups: those who are forwards first and foremost ,and those who, in attitude and skill set, are essentially midfielders. Rooney falls into the former category…Mesut Ozil, Cesc Fabregas, David Silva, Toni Kroos and, when he is used there, Yaya Toure are essentially attacking midfielders, likelier to get involved in play and exhibiting a greater affinity with the men behind them."
So to make an attacking progression, the defenders and midfielders prefer to reach out to the wing-men instead.
---
No One to Skip Challenges
Sitting deep won't be an issue if the midfielders are mobile, like Yaya Toure. That is, they can bring the ball forward and glide through tackles when required.
However, United don't have a single central midfielder who can run with the ball.
Both Fellaini and Jones average just 0.4 successful dribbles per-game, Carrick 0.3 and Cleverley 0.2. United desperately covet a "shuttler" who can move up and down the pitch and link the midfield with the attack.
Rooney might average 1.8 dribbles in a game, but he operates mainly in the final third and due to his deteriorating pace, he gets easily caught by the opposition.
Alternatively, Untied can look out for a No 10 who can drop deep and run with the ball. Shinji Kagawa did an admirable job in this avenue against Bayer Leverkusen.
---
Lack of Link-up Between Rooney and the Striker
Even if Rooney does get in possession in between the lines, there he has no support. And he's no Mesut Oezil, who can spray Hollywood passes.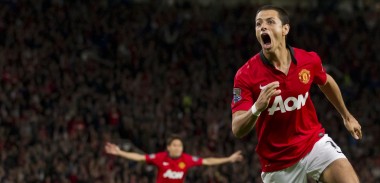 Midfielders play too deep while Rooney doesn't link up often enough with his strike partner in open play. Against Cardiff, Rooney didn't play a single pass to Hernandez. Versus Arsenal, Rooney and Robin van Persie successfully combined just five times (including Rooney's corner assist). At Craven Cottage, it was seven.
Rooney himself gets isolated ahead of the defense- prompting the former Merseyside youngster to play the ball out wide.
---
Lack of Mobility and Vision
The likes of Fellaini and Cleverley are too static. If they are being marked, they don't even make an attempt to lose their marker.
As veteran striker Nicky Forster puts, in order to beat your marker, "the key is movement".
"If you're stationary you're going to be marked very easily."
Best players are always on the move, looking for space to receive and play the ball. They're never stationed in a position for more than a couple of seconds. That's what make them better than the rest.
But United's midfielders aren't nimble and hence, the defenders look out the flank-men in order to start attacks in case the midfielders are marked.
---
Outnumbered in Midfield
United's 4-4-1-1 formation is outdated.
Most of the teams play with three midfielders in the modern-era. So it becomes nearly impossible for United to dominate the middle of the park and pass "around" their opposing midfielders.
Midfield domination can be achieved with United's current set-up too, but for that, Rooney will have to play in a deeper role and both the holding midfielders will need to push up when in possession.
It's easier for United to create numerical advantage out wide than in midfield so wing-play is preferred.
---
Kagawa a Solution?
United played Kagawa behind Rooney on Wednesday night.
While the visitors still dominated the wings, it was by choice and owing to the massive gaps left by Leverkusen's full-backs, who as Neville pointed out, were playing more like wingers.
When it came to playing from the middle, United looked at ease and comfortable. Kagawa (26) stayed more close to the central midfielders while Giggs (11) continually ventured into the final third.
The players were more close-knitted. In addition, Kagawa could also travel with the ball and the Japanese linked up with Rooney an admirable nine times throughout the game.
Lastly, together Giggs and Kagawa made four key passes and two dribbles. Not bad for a team lacking any sort of creativity from the midfield until Wednesday night.
All statistics are via WhoScored.com
What do you think about Manchester United's wingers? Comment in the section below.
Enjoy that? Give it a share!