For the second time in as many years, the Manchester Derby turned out to be a one-sided affair, with Manchester City routing their counterparts 4-1.
Even though United bounced back from the humiliating defeat by beating Liverpool 1-0 at Old Trafford on Wednesday night, I look at some intriguing tactical observations from the fiasco at the Etihad Stadium.
---
Causes
From what I observed, United lacked in six departments against City:
Physicality
Speed and Movement
Formation of Nexus
Willingness to Defend, Tackle and Press
Passing
Midfield Pivot
City's emphatic domination, if we simply put, was down to the above-mentioned points. But the concern for United is that they were nearly outdone in all the crucial on-field avenues.
---
Physicality
Manuel Pellegrini chose a side full physically imposing players, harassing United's troops throughout.
Vincent Kompany gave a tough time to Wayne Rooney when the Englishman tried to play on the shoulder of the last man, eventually forcing the former Everton youngster to drop back "in the hole".
Ashley Young and Danny Welbeck had difficulties in dealing with Pablo Zabaleta and Matija Nastasić respectively.
Midfield highlighted the true physicality of the City team. Yaya Toure had a phenomenal outing from his box-to-box role. Many felt the arrival of Marouane Fellaini will finally enable United to cope with Toure but the Ivorian produced a monstrous performance on Sunday.
When he had the ball on his feet, Toure held on to it superbly by utilizing his raw strength, while he literally haggled off United's players from the ball when defending.
Fernandinho assisted Toure by armouring the backline, recycling the ball with fine understated excellence and often breaking up play by using his strong stature.
Fernandinho was the prime reason why United's counter-attacks lacked any sort of pace and directness. He presented himself as a rock-solid wall in front of Kompany and co and United were clueless as to how to get past the 28-year-old.
City had 67% possession till the 25-minute mark and this was more or less owing to Toure and Fernandinho bullying United's players and winning the midfield battle.
Moving on, upfront, Pellegrini went for the combination of Alvaro Negredo and Sergio Aguero- two players with adequate if not good physical presence.
---
Speed and Movement
In the attacking third, Negredo and Aguero gave a torrid time to Rio Ferdinand and Nemanja Vidic with their movement and pace.
Ageuro was swamping all over the pitch, running channels, pulling Vidic out of the backline, dropping back to provide another passing outlet and creating wing-overloads. Negredo's tireless running and mobility added to United's woes.
Together, the two caused insurmountable troubles to Vidic and Ferdinand with United's centre-backs unable to keep track of their pacey counterparts.
City's third goal is a perfect example of how Negerdo and Aguero created openings with their clever movement.
First, Negredo plucked Vidic out of his position, leaving a hole for Aguero to get into. Ferdinand potentially nullified the space opened up (albeit there was already too much space between Ferdinand and Evra). Aguero made a late run behind Ferdinand in the space just vacated. Seconds later, City were three-nil up after Aguero slotted home Negredo's cross.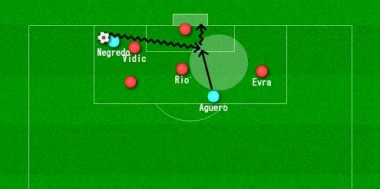 City's first goal also showcased miscommunication between Vidic and Ferdinand.
Overall, almost all of City's players were fast, mobile and played at a high tempo.  Jesus Navas was a menace on the right-wing and Samir Nasri and Toure also flourished against the slow and immobile legs of Carrick and Fellaini. Moreover, City's full-backs, particularly Aleksandar Kolarov, got forward very quickly with purpose and helped to create 2-verus-1 or 3-versus-2 situations on the flanks. There was also regular positional interchange between the attackers and midfielders.
But in case of United, wing-overloads were nominal. Rooney dropped back but only after being frustrated by Kompany and this in turn, left Welbeck isolated (to be discussed in the next segment). Welbeck was mediocre himself in pulling out defenders out of their positions. United were static and rigid.
Not to forget, the Red Devils lacked pace in the team. City dominated majority of the first-half and United were willing to play on the counter. But most counters originated from Rooney, Fellaini or Carrick- who frankly, don't possess any real burst of pace. And by the time the ball reached the wingers, City had usually regrouped.
---
Formation of Nexus
United's attacking problem was simple- there was no chain between the midfield and attack.
Rooney was playing higher than his usual role and Carrick was operating in his deep-lying midfield role. So Fellaini was required to form the box-to-box link but he couldn't do so.
Hence, in a sense, United were often playing with two sitting midfielders and two out-and-out strikers with Fernandinho and Toure in between the two banks.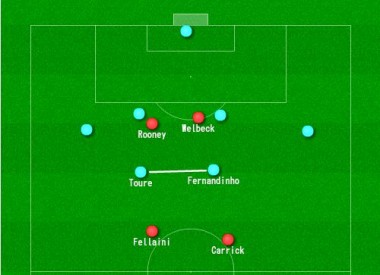 Rooney as a result (and owing to Kompany's virtues) dropped deep to get involved but as aforementioned this left Welbeck completely alienated in the first-half and he was forced to move to the flanks to get hold of the ball.
(Welbeck passes recieved)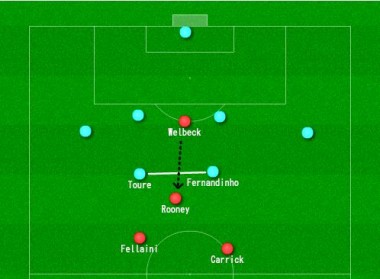 Later on, Fellaini started to get forward but the Belgium international just joined the two strikers upfront against City's back-four. He didn't form the missing nexus but presented himself as an outlet for long passes and crosses, something he used to do at Everton.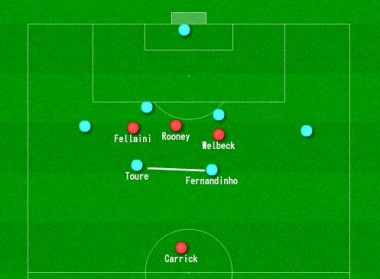 City on the other hand, had a constant link between their midfield and strikeforce. Nasri drifting centrally and Toure taking up space vacated by Aguero behind Carrick and Fellaini meant City were easily able to pass among themselves. Their set-up was fluid and efficient.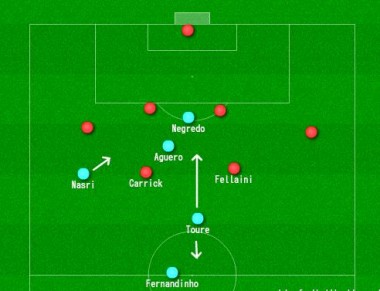 Moyes brought on Tom Cleverley in  the second-half so that the 24-year-old and Fellaini could link Carrick with the attack and United could finally start penetrating. The substitution was a masterstroke but way too late.
---
Lack of Willingness to Defend, Tackle and Press
United's defending was simply atrocious. For the first goal, Valencia failed to track Kolarov's run, allowing Smalling to get outnumbered and Kolarov to whoop in the cross which ultimately led to the goal. In fact, Valencia was sub-par in fulfilling his defensive commitments on Sunday.
For the second goal, Fellaini and Ferdinand couldn't keep hold of their markers during the corner, the defensive disasters for the third has been mentioned earlier while for the fourth one, Evra didn't make an effort to track Navas' explosive run- no United player did actually.The Spaniard's cross was easily displaced by Nasri, who wasn't even moderately closed down by Smalling.
In all, United made no attempts to tackle or win the ball quickly, unlike City. Pressing on City's midfielders was absent and the Sky Blues were easily able to pass the ball in between the lines.
In the second-half, situation improved for United but that was mainly owing to the tired City players.
Add to that, the Blues' structure when defending was much more compact and organised. United couldn't attack from any possible outlet. Centre was not viable because of the missing nexus.
On the wings, Zabaleta easily shunned Young. The former Villian had a passing rate of just 60% and failed to execute either of his two crosses. Zabaleta, whereas, ended the game with a game-high ten tackles. Evra's delivery was continually poor and the France international was nullified by Navas, who diligently fell back.
On the right, in the first-half, Smalling didn't provide much attacking support to Valencia but the youngster grew more into the game in the second-half, as illustrated by the change in his action-area graphs of the two halves.
In the second-half, United improved down both the flanks but Kompany produced a stunning nine clearances (eight from inside the box) to restrict ammunition to the likes of Rooney and Fellaini.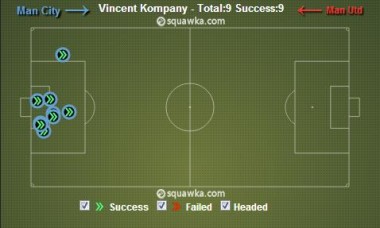 One should also not forget, Negredo's pressing on United's defenders and David De Gea, which prevented United from building up from the back.
---
Passing
This is mainly associated with City's dominance in the first-half.
In the first 45 minutes, City's passing rate was 82%, compared to United's 80%.
However, City completed 76% of their passes in the attacking third, while United completed only 67% of theirs. Moreover, not only did United have a poor passing rate, they attempted just 54 passes in the final third of the pitch. City attempted 80.
Moreover, City played 129 forward passes before the interval, completing 98 of those (76%), but United played just 103, completing 71 (68%).
Moyes' men were also relatively slow in making the passes, which meant United play with relatively less intensity than their rivals.
---
Midfield Pivot
To conclude, City's midfield pivot was exemplary. They passed the ball with purpose, shielded the back-four and won back possession fantastically.
Fellaini and Carrick stood no chance against them.
| | | | |
| --- | --- | --- | --- |
| | Tackles | Interceptions | Key Passes |
| Toure and Fernandinho | 5 | 7 | 5 |
| Carrick and Fellaini | 3 | 1 | 2 |
Enjoy that? Give it a share!