It seemed a real abashment that following a very good display against one of the best teams on the planet, all anybody felt the need to talk about was the substandard performance that Marouane Fellaini put in last night.
At six feet and four inches with the addition of a large afro, it would seem impossible that someone could be anonymous on a football pitch; however I was duly proved wrong as the £27 million pound midfielder put in a show of such mediocrity and feverishness against Bayern Munich that a Spanish paper actually didn't render him worthy of a rating. It felt a little bit like sweet irony that when every other player was playing with such competence and know-how that Fellaini was just like he has been all season, it was almost like a reality check in a sense. It showed that Manchester United still had universal issues to deal with, which was sad because for a brief moment all the lamenting and anger I had experienced since August flew out the window and I was rehabilitated with a feeling a pride and assurance. But sadly, Fellaini's performance put everything back into perspective.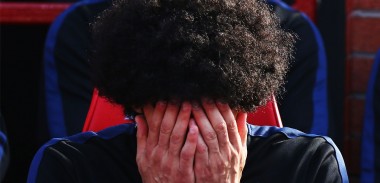 In a game that was spent mostly without the ball, it was important for Manchester United to not squander any possession in the middle of the park and maintain a sturdy defensive shape which was also capable of counterattacking productively. This was something that was systematized successfully by David Moyes and even though the German visitors made about 400 more passes than United, the home team were worthy of a 1-0 win. This arguably would have happened should it have crossed Fellaini's mind to track the run of Bastian Schweinstieger (who then netted Bayern's equaliser) as someone who always backs the players regardless of how poor they are it was really sad to hear ironic jeers from the United fans when he finally won a header or successfully made a tackle. Although I certainly disapprove of it, I partly understand it. Nobody can dispute how out of place this strangely built man was.
So, if he's that bad, why on earth did Manchester United buy him?
Upon the departure of Scholes, it was imperative that United recruited somebody swiftly that was able to play in that defensive midfield position at a good level, not Scholes level (that's impossible) but still a decent level. The thinking was that it was important to bring in somebody who could tackle hard, play the simple pass but also that defence splitting pass, win headers, shoot with venom and accuracy but more importantly devote themselves to the cause every time he steps on a football pitch. The purchase of Fellaini was that attempt, unfortunately it didn't have the desired affect: He wasn't brought in swiftly for a start; he was signed 3 games into the season. His tackling has generally been sheepish, his work rate is more or less nonexistent and I think it's probably best if I don't mention his shooting. Everything has gone against him as well, a wrist operation, the demise of a squad as a whole and most importantly not being played in his favourite position has severely inhibited his progress at United.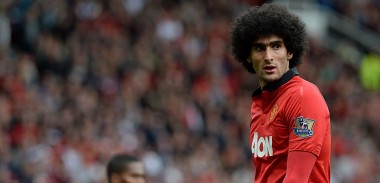 Despite all this negativity, I do believe it's important to remain supportive of Fellaini. Coming to United at this period of time is difficult not just for David Moyes but also any player. His bullishness and ferociousness is enough to scare the living daylights out of any team, his ability will eventually shine through. Just look at Jordan Henderson of Liverpool, another player who came to a big club and went straight under the radar for several years is now instrumental in every success Liverpool have this season. It won't happen overnight, but a player with such experience and ability will eventually adjust to life in Manchester and soon become a useful asset for Manchester United.
What are your thoughts on Marouane Fellani? Comment in the section below.