After a promising start to the season, Danny Welbeck hasn't reached the heights many expected him to, this term.
Injuries and heavy competition for a starting XI spot have resulted in limited playing time for the 22-year-old and we analyze Welbeck's present and potential future as a Red Devil.
---
Early Career
Welbeck was only five years old when he begged then-United trainee Wes Brown to let him play football with the latter and the other older kids in the streets of the neighborhood the two lived. Initially reluctant, Brown delved into the demands of Welbeck.
"We didn't encourage it at first – we thought Danny could get hurt," Brown said.
"But the concern didn't last long, to be honest. Once Danny got started, you could see he was decent. He had the skills and he could look after himself."
Brown played a crucial role in Welbeck's development as a football player and motivated the attacker to done the colors of United. They two played football together in a town named Longsight, just some four miles away from Old Trafford.
"I could see what Wes was doing," Welbeck commented. "He was going off to Lilleshall with England and then going away with United. It was really motivational. Here was a guy living directly across the road from me so I used to think, "If he can do it, why can't you?"."
And it wasn't long before United scouted Welbeck, first as a six-year-old. Two years later, Welbeck gave a trial at Manchester City but was rejected. His parents were made aware of the rejection prior to Christmas but decided not to tell Welbeck.
However, just a week later, United signed the prodigy after scouting him at a local tournament.
"My Dad didn't tell me at the time, it was just before Christmas and he didn't want to break any bad news."
"Straight after Christmas I played in a tournament for my local side, Fletcher Moss, and that's where United picked me up. I went for a trial and have never looked back since. I was always a Red anyway."
Welbeck was a brilliant student academically as well, with 12 GCSEs. He could've pursued a career elsewhere, but he wanted to be a footballer and was rather good at it. He made his England U-16 debut aged 14 and made his United debut at 17, in which he missed a penalty.
Welbeck's Premier League debut came against Stoke City in November of 2008 and he scored a stunner from 30 yards out to announce himself on football's biggest stage.
His future looked bright. Welbeck had everything to flourish at the Theatre of Dreams.
---
Knee Problems
During his growing years, Welbeck suffered from Osgood–Schlatter, "a condition that causes pain beneath the knee cap and often afflicts teenagers who play a lot of sport and go through a growth spurt."
And according to Sir Alex Ferguson, the disease stagnated Welbeck's growth.
"Danny made slow progress because when he was growing he had Osgood-Schlatter's, that knee-growth condition, and it was always a case of we're going to have to wait for him."
In case of 10 percent of Osgood-Schlatter patients, "the symptoms continue unabated into adulthood, despite all conservative measures." And Welbeck seems to be one of those unlucky ones.
Despite having recovered from the disorder, Welbeck continues to face niggling knee problems. By comparison, Stephan Ireland, who suffered from the same disease, has never stumbled to a knee injury in his career yet.
In 2010, a knee injury cut short Welbeck's Presto North End stint. On October 19th this year, a problem in the cartilage eventually put him out of action till the last week of November.
In his only season at Sunderland, Welbeck suffered from four injuries. And after returning from his stint at the Stadium of Light, Welbeck has complained of 13 more injuries (seven related to his knee) in approximately 28 months.
That's an injury concern roughly nearly every two months. On Google, you'll get more search results for "Welbeck injury" than for "Welbeck".
Initially, the knee troubles were delaying Welbeck's integration into United's first-team, but now they are hampering his chances to become an established striker at the club.
Welbeck needs to play regularly. But with an attack containing Wayne Rooney, van Persie and Shinji Kagawa, he will get very few opportunities and he will need to pounce onto those. If he is on the treatment table when these opportunities present themselves, Welbeck will suffer and Moyes will start to lost trust in the player. After all, Welbeck has a lot to prove. He's not good enough to walk into the first-team straight away after recovering from an injury, like say Rooney.
Hence, Welbeck needs to reach higher levels of fitness. United and Moyes won't be patient forever. There will be a time when they up on the striker, like Ferguson did on Saha.
Quotes obtained from Ferguson's autobiography:
"Of all the centre-forwards we employed, when you talk about their talents…Saha would be one of the best…But then came injuries…The reason for selling him was that no matter how talented he was, I could never plan around him, could never say 'This is my team for the next two or three years'. Saha was young enough to be viewed in that way…but the uncertainty caused by his constant non-availability rendered it impossible to look far down the line."
Welbeck will face the same fate if his injuries don't reduce over the coming seasons.
---
Sunderland Loan
In the summer of 2010, Sunderland signed Welbeck on loan for the season.
Before the deal was completed, Ferguson stated: "We sent him to Preston last year and he only ended up playing three games and had an operation on his knee. One thing about him is that he's still growing, so there's weakness in his legs. He's 6ft 2in and just sprouted up in the last year-and-a-half. He needs consistent football…"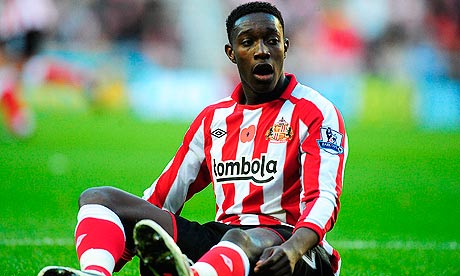 Welbeck got to play week-in-week-out at Sunderland. His first goal came in November against Chelsea. After a brilliant performance at the Stamford Bridge, Welbeck's "confidence became sky high" (as per Titus Bramble) and he scored 11 more goals.
Eric Black, Sunderland's assistant manager at that time had a few good words to say about the lad after the Chelsea match.
"…he can be exceptional for us this year and score 15 goals, we will deal with the other bit when it comes. But first and foremost, we need to have the problem. He is an exceptionally good player. I see him every day in training and he has got fantastic ability. He has now got the confidence. Probably what has stunted his development is he has not been able to play regular football week in, week out. He is now getting that opportunity and he has grasped it. He has got phenomenal potential – that's probably why he is at one of the biggest clubs in the world. But hopefully he is flourishing here and hopefully we can hang on to him for as long as possible."
A month later, then Black Cats' manager Steve Bruce spoke on Welbeck and reflected his disappointment on the fact that Sunderland won't be able to sign the United player permanently.
"I always knew that (signing Welbeck permanently) was going to be a problem anyway…But he is a fantastic talent isn't he? You can see that and he has benefited from playing regularly. The good thing about him is he has got infectious enthusiasm about him. He wants to play and train and he has been terrific. Manchester United have got a very good player on their hands."
Simply put, Welbeck's loan stint at Sunderland told us the following about the player:
1. Like every youngster, he needs to play regularly.
2. He's got the potential, attitude and enthusiasm.
---
Attitude
One day in school, Welbeck refused to sprint 200 metres in a Game lesson. When his head teacher asked him the reason later on, Welbeck said he was playing the FA Youth Cup semi-final against Arsenal that night, but didn't want to talk about it in front of the entire class.
Welbeck is modest, shy and determined. He's never complained about lack of playing time and has always shown respect for the club and his manager. He is a fun-loving personality in the dressing room as well.
September 24th 2009: Welbeck – "I am just like any other normal Manc boy. To be given the chance to play for Manchester United is a dream. I just have to carry on training hard to try to get more chances in the first team."
July 23rd 2010: Welbeck – "My main aim is to be part of the first team set-up but I am happy to go on loan if the manager wants me to. I just want to keep playing games and improving. I feel I have improved a lot over the last couple of years in particular. I have learned so much during that time particularly the importance of mental strength on and off the pitch. I just want to keep improving and striving to show everyone what I can do."
March 25, 2012: Welbeck- "People around me would never let me get too big-headed. At the end of the day, you're just another human being. I'm lucky to be doing something I love."
August 22nd 2012: Welbeck (after signing a new contract) – "Playing for United is all I've ever wanted to do – it's the club I've supported all my life. I can't wait for the challenge of the new season to play my part in helping the team compete for trophies. I'm learning all the time from the best manager in the game and I'm keen for that to continue alongside the world-class players in the squad."
2011-Present
In the 2011/12 season, Welbeck's became United's first-choice partner for Rooney. Javier Hernandez was suffering from "second season syndrome", while Dimitar Berbatov had fallen out of favor.
Welbeck ended the term with 30 league appearances. He scored nine times from 80 shots and registered four assists. He lacked confidence in front of goal and hence, his finishing was sub-par.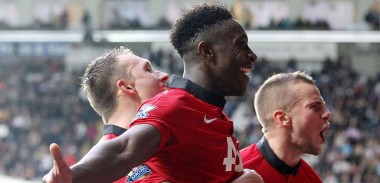 However, Welbeck showed flashes of brilliance and delivered in crucial games. He scored wonderful goals against Everton and Manchester City and found the back of the net against Arsenal as well.
Lack of competition helped him but everything changed when United signed van Persie and Kagawa in the 2012 transfer window. Welbeck did play 40 matches, but in 34 of those, he operated out of position, on the left flank.
---
Skills and What Now?
Welbeck finishing has showed signs of improvement and his skill-set is unique.
Welbeck links up admirably well with his teammates. He can be often seen dropping deep, swapping roles with his attack partner and moving to the flanks to provide assistance to the wingmen. In the 2011/12 term, Welbeck's partnership with Rooney was excellent. It was a little indirect but the two had a very good understanding of each other and liked playing together.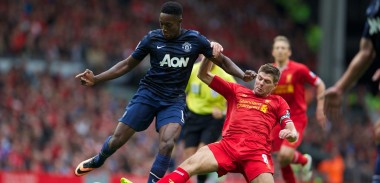 Welbeck's movements, stamina and physical presence are also impressive.
He can easily create spaces with his movements, run channels, run with the ball and recover possession. It was because of Welbeck's work-rate and willingness to press from behind that Ferguson started him ahead of Rooney against Real Madrid. He repaid his manager's faith and executed his duties of hounding Xabi Alonso very well.
Welbeck has nearly all the skills- pace, stamina, work ethics, discipline, eye for goal, creativity, passing vision and strength. He only needs to improve upon his finishing and fitness.
If he works on those two avenues, Welbeck will develop into one of the best strikers in England.
Frankly, giving him more playing time in his central role can really help. Draft Welbeck into the team whenever he is fit. Play him for a stretch of six to ten games. He's played as a striker three four this season and has contributed to five goals. When played consistently, Welbeck delivers.
What do you think about Danny Welbeck? Comment in the section below.
Enjoy that? Give it a share!