Manchester United produced arguably their best performance of the season on Wednesday night as they defeated Real Sociedad 1-0 at Old Trafford.
While Wayne Rooney garnered the plaudits for his scintillating display, the evergreen Ryan Giggs was back to his optimum best after a dismal outing against Southampton.
The Wales international added the lacking element of mobility and pace to United's play. Against Southampton, Marouane Fellaini was too static in his positioning, restricting United's creativity in the midfield.
Whereas, Giggs provided an element of elegance to David Moyes' set-up against Sociedad. He combined admirable well with Shinji Kagawa and Wayne Rooney. When Rooney dropped deep, Giggs took up the space vacated by the Englishman, ensuring Javier Hernandez wasn't isolated and United continued to form the nexus through the middle of the park.
The link-up among Rooney, Kagawa and Giggs meant United maintained their fluidity throughout.
Giggs also provided United with a central midfielder willing to skip through challenges, take on players and run with the ball. He completed the joint-highest number of dribbles of all players on the pitch (5) on Wednesday.
While Fellaini simply passed the ball to Rooney or the wingers against Southampton, hoping they would do the rest of the attacking work, Giggs emerged as someone willing to shoulder the attacking duties.
Fellaini made attacking runs against the Saints but he simply joined in the attack expecting a long ball from Carrick (Everton instincts).
The Belgian couldn't carry the ball forward or play one-two's with the attackers. This forced Rooney to drop back to collect the ball and when he did fall back, Hernandez was too high up the pitch and unlike Giggs, Fellaini didn't interchange roles with Rooney. So, United's link between the midfield and attack was cut off.
Giggs' passing abilities also played a crucial role in United's Champions League win. In the Southampton tie, Fellaini was slow and cautious with his passing.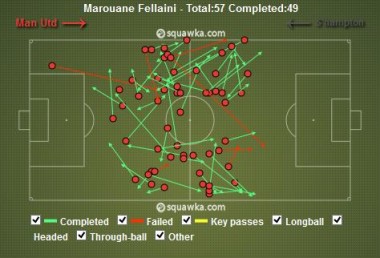 Comparing Giggs' passing pattern in the Sociedad match with that of Fellaini's against Southampton, we find Giggs was more varied with his passing.
He played more long balls than Fellaini (3 to 2), more attacking third passes (20 to 8) and had more passes directed towards the two strikers (14 to 8).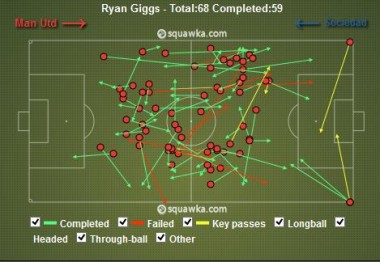 Simply put, Giggs involvement against Sociedad didn't really change much.
United's players just interchanges positions more often (making it hard for the opposition to mark them) and the Red Devils were able to dominate the midfield battle as Giggs got forward regularly to provide a numerical advantage against Markel Bergara and David Zurutuza. In addition, Giggs' passing was more direct and quick.
Fellaini is either a second-striker or a player who could sit back, break up teams' plays and pass from a deep lying role. He can't move with the ball and he is not really useful in the transition process owing to a poor first touch and lack of one-touch skills.
United need a shuttler or a box-to-box midfielder. Thankfully, Giggs didn't sacrifice his defensive duties against Sociedad (making four interceptions and one tackle) but Moyes can't really rely on a player about to turn 40 in a couple of weeks to bail out the English champions every week.
What do you think on Ryan Giggs' form for United? Comment in the section below.