After a torrid past few days, David Moyes nearly pulled off a tactical masterstroke as Manchester United return to England unscathed from a daunting trip to Ukraine.
No team has ever beaten Shakhtar Donetsk at the Donbass Arena so a 1-1 draw was a fairly impressive result for Moyes' troops.
What follows is an analysis of the Scot's exquisite tactics.
Three-Man Midfield and Controlling Tempo
Shakhtar deployed a 4-2-3-1 formation on Wednesday night and if Moyes would have chosen to play his usual 4-4-1-1 set-up, then United could have been easily outnumbered in midfield.  Moreover, this could have left United's defenders and midfielders vulnerable to the pace and physicality of Shakhtar's players.
Moyes was aware of this, and hence, decided to put up a three-man midfield wall in front of his backline and instructed the two wingers to drop deep while defending.
Michael Carrick closed down the space in between the lines for Alex Teixeira, often making United's formation a structured 4-1-4-1. Tom Cleverley and Marouane Fellaini (later Ryan Giggs) stayed very tight to Fernando and Tomas Hubschman respectively.
United's midfielders performed their marking duties to such expertise that Shakhtar's midfielders were unable to play freely and could only attempt a total of 37 attacking third passes. By contrast, the hosts' right-back Darijo Srna alone had 39 registered to his name.
Douglas Costa plucked in from left-flank, but either he couldn't find any space ahead of Nemanja Vidic and co or was closely monitored by Danny Welbeck or Patrice Evra.
This ensured Shakhtar were unable to attack down the centre and United's first task was accomplished.
Now, in order to completely strike down Shakhtar's threat with pace, Moyes instructed his players to play with a very slow tempo.
United were clam and patient in possession. They didn't push men forward hurriedly or in large numbers. Attacks were slowly built up.
The Red Devils' midfielders were sitting quite deep and were slow in making the attacking transition so this approach suited them, albeit it often left Robin van Persie isolated up-front when long balls were played to him.
Nonetheless, Moyes wanted his team to dominate possession so that they could set their own tempo and for the first 30 minutes, the Red Devils did so admirably well.
When Shakthar tried to catch their English counterparts on the break, United reorganized quickly owing to the limited number of players involved in an attack.
So, in turn, the Miners had no other option but to play at a slow tempo themselves- they needed more time to break up United.
This was a breathtaking tactical ploy by Moyes.
In possession, United set the tempo but even out of it, they controlled the pace of the game, thanks to a wonderful defensive set-up.
Task two accomplished.
The slow tempo and compact organization prevented Shakhtar from using their speed and strength to trouble United.
Frustrated, the Ukrainian champions shifted out wide. They tried overloads but United generally nullified the extra-men. Shakhtar's full-backs and midfielders still managed to get space to cross, but their crossing was atrocious, while Vidic in particular dealt well with all the deliveries into the box, expect the low ball that pounced in Taison's way in the 76th minute.
So, one can say United shut down Shakhtar's all possible avenues of attack. This compelled Mircea Lucescu's men to pass the ball among themselves in the defending third.
And United let their opposition keep possession as long as it didn't enter their half (United's). Thus, Shakhtar's four defenders saw a lot of the ball and made a total of 326 passes.
Inability to Keep Possession                                      
There was one flaw in United's cautious approach.
Handing over possession to Shakhtar didn't really harm them, but it wasn't part of Moyes' tactical plan.
"We said at half-time we needed to keep the ball better, but we actually gave it away more in the second half, so I was disappointed we didn't pass it better," noted the Scot.
Moyes wanted United to keep hold of the ball but his players stuttered in doing so after around the 30-minute mark. Fellaini was horrendous. He got dispossessed five times and gave away the ball needlessly. Moyes brought on Ryan Giggs so that United could control the game in the final stages and protect the one goal lead.
Lack of Goal Attempts
Lack of possession after initial domination meant United had to play on the counter. But the visitors were unwilling to risk increasing the tempo of the match so they rarely attempted any fast-pace counter-attacks.
Whenever United regained possession, the English champions tried to build up slowly from the back. As a result, United had only four shots on goal.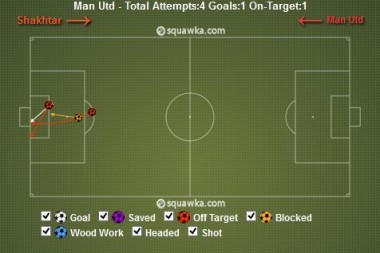 But this wasn't an issue for Moyes for, his prime aim was to prevent Shakhtar from scoring and United had already pocketed an early away goal via Welbeck.
"On paper this looked a hard away tie and we have picked up a good point," said the former Everton manager, implying he wasn't really concerned with the lack of attacking impetus.
Conclusion
Moyes' set-up was excellent and well-planned. His players could have done better but a point on the road is a very good result and this game proves Moyes' tactical acumen.
How do you think Moyes did in his second Champions League match? Comment in the section below.
Enjoy that? Give it a share!